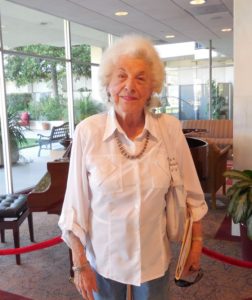 Irene Ruth Olson
Irene was born on 6/12/1924; she died on October 5, 2019 at age 95.  She was musically inclined at an early age. At seven, she was taking piano lessons.  At nine, she was studying piano with a concert pianist and playing at PTA meetings.  In junior high and high school, she learned to play the string bass.  She was also the pianist for the voice class and glee club.  She graduated from USC with a bachelor's degree in Music Education, having played in many stage productions during college.  After college, she volunteered for the USO and was secretly taken to bases to entertain the troops. In the 1950's, she moved to Long Beach and taught music in junior high and high school.  She later worked as a substitute teacher for the LBUSD.  She also played for summer stock at the Alpert JCC.
She moved to Ventura in 1998 and played piano for Temple Beth Torah.  In 2002, she moved to Leisure Village where she formed and directed the singing group "The Rhythmettes."  In 2014, she moved into the Ventura TowneHouse and started the "TowneHouse Choraliers."  In 2019, Irene moved back to Leisure Village to live with and be cared for by her daughter Adriene.
Shewas married to Jack Marion, Harold Alpert, and Harry Olson, all of whom are deceased.  She is survived by her daughters Jan Childs (Ken) and Adriene Alpert Cardan, her grandchildren Richard Gauvin (Kimberly), Christina McIntire (Michael), and James Cobb, as well as three great-grandchildren:  Natalie Gauvin, Nicholas Gauvin, and Ailey McIntire.
Her friend Es Cole remarked "Irene gave and gave of herself and her talent. Wherever she now, I know there is an audience clapping in rhythm as Irene plays and plays, the piano she loves."