Ventura Mayor Matt LaVere addressed the attendees with Chief Executive Margarita de Escontrias at his side. Photos by Michael Gordon and Bernie Goldstein
On Nov. 15 a ribbon cutting, and grand opening was held for the Snapdragon Place Apartments, Phase II, Cabrillo's newest affordable housing complex in Ventura.
Cabrillo is developing the project in partnership with the Housing Authority of San Buenaventura, which will serve as the property management company.
"This development offers new homes for working families, homeless individuals and Veterans to live comfortably and not have to worry about paying extreme rents beyond the families' earned income," Cabrillo's Director of Real Estate Development Eduardo Espinosa said.
Snapdragon Place Apartments, Phase II, is a newly constructed development of 22 units with four one-bedroom homes, 10 two-bedroom homes, and eight three-bedroom homes. The development will share a community room with Phase I of Snapdragon Place Apartments, which was completed in 2015.
The grand opening began with a Presentation of Colors by the Ronald Reagan Det. 597, Marine Corps. League, Ventura County. Speaking at the event was Cabrillo Executive Director Margarita H. de Escontrias, Cabrillo Board President Dave Sabedra, Espinosa, Ventura Mayor Matt LaVere, Housing Authority of San Buenaventura CEO Denise Wise, and Ventura County Behavioral Health' Director Dr. Sevet Johnson.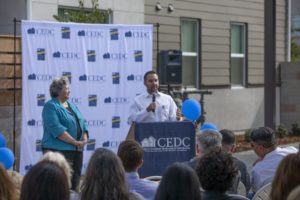 Ventura County Chamber of Commerce CEO, Stephanie Caldwell performed the ribbon cutting ceremony, and a luncheon, catered by Main Course California followed.
Cabrillo Economic Development Corporation has received a $150,000 unrestricted operating support grant over two years to be used for overall operational expenses.
Currently, Cabrillo provides ESL classes, Homework Clubs, food pantries, community gardens, summer programs for kids, scholarships, and health and nutritional services to its residents.
The funding also will give Cabrillo an opportunity to increase staffing in the Real Estate Development Department and retain real estate expertise to enlarge Cabrillo's development pipeline and manage more projects in varying stages of development, Bickerstaff said.
At this time Cabrillo is in predevelopment on two projects, a 42-unity farmworker development on Etting Road in Oxnard and a 50-unit development for seniors in Buellton. Snapdragon Place Apartments, Phase II will have its grand opening celebration on Nov. 15 as that property in collaboration with the Housing Authority of San Buenaventura finishes leasing.
"We are excited to be looking to the future with a focus on developing much-needed affordable housing in Ventura and Santa Barbara Counties, and chipping away at the immense need for affordable housing here," Cabrillo CEO Margarita H. de Escontrias said.
De Escontrias said, funds also will be used for board development training on best practices pertaining to board effectiveness and in the recruitment of board members with specific skills and expertise.
Cabrillo's mission is to provide comprehensive housing services and community economic development activities that facilitate self-sufficiency for individuals and families who are most lacking in opportunity. Incorporated in 1981, Cabrillo's early roots were in response to a farmworker community's demand for secure housing. Although this continues to be important, today there is a more widespread need for affordable housing in this region. As such, Cabrillo now provides housing for low- to moderate-income residents and families, including farmworkers, seniors, veterans and individuals with special needs.