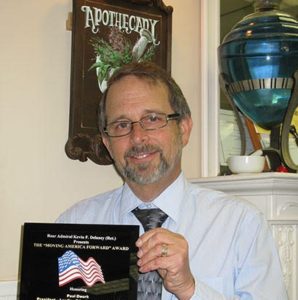 by Patty Jenkins
Get into the Holiday spirit on Wednesday, November 13, 2019, from 12:30-2:30PM, with the Ventura Parkinson's Disease Support Group as we host one of Ventura County's most talented magicians, Mr. Paul Dwork of Merlin Medical Supply. Join us as we celebrate making it though another year of "the seriousness of Parkinson's" with some lighthearted magic by Paul followed by "the best medicine – laughter!" Lorelei Woerner-Eisner of the Wellness Arts Village will lead us in some Laughter Yoga and we'll all leave with smiles to start the Holiday Season!
Paul Dwork is a Master Magician who performs at many fundraisers for various charities in Southern California including an annual show in Moorpark organized by the Rotary Club of Camarillo where proceeds go to worthy charities such as the Brain Injury Center of Ventura County. Paul has been performing magic since 1969 and has developed a reputation as "The Merlin of Magic". He created his show in 1985 as a fund raiser for his children's pre-school and continues to perform using Science and Magic as part of a magical experience for children of all ages.
Merlin Medical Supply in Camarillo is a great source for durable medical goods, specialty equipment for the physically challenged, which would include Parkinson's, diabetic, incontinence and wound management supplies and other medical aids. Paul is an inventor of many products that help improve quality of life, which includes the GeeWhiz Condom Catheter for male incontinence.
Lorelei Woerner-Eisner is the Founder of Wellness Arts Village in Ventura (Grand opening in the Spring of 2020!). Lorelei has over 25 years of Occupational Therapy experience and more than 10 years as a yoga therapist in pediatrics, acute care, home health, rehabilitation, mental health, and skilled nursing. She is a regularly featured national speaker on various topics from an integrative perspective and has written several handbooks. Lorelei is a Fieldwork Educator with USC, on faculty with the Optimal State of Living program, and leads retreats. She is the developer of the Integrative Wellness Therapy method, which blends western medicine with research-based complementary techniques, with an emphasis on neurological concerns (Parkinson's, Post-stroke, brain injury, dementia) and mental health (executive function, anxiety, depression, ADHD). She received her degree in Occupational Therapy from USC and her Yoga Therapy certificate from Loyola Marymount University and the Optimal State Method.
Join us for our last meeting of 2019 on Wednesday November 13, from 12:30 to 2:30 at Ventura City Hall's Community Meeting Room # 202; 501 Poli Street. The Ventura Parkinson's Disease Support Group welcomes the public along with those who find themselves navigating the challenges of Parkinson's Disease and other neurological conditions. Hand-out resources available at every meeting. We are an independent and volunteer-organized group not affiliated with any other organization or group. For more information and important detailed directions to our meetings, please call Patty at 805-766-6070.