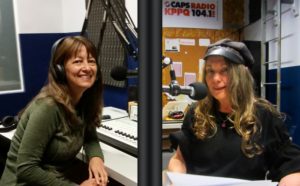 The CAPS Media membership has elected two creative and outstanding volunteers to join the organizations Board of Directors. Pam Baumgardner and Kathy Good join the board for four-year terms.
Pam has been an active member at CAPS Media for the past few years. She created and hosted Ventura Rocks @ CAPS a monthly studio and interview program produced at CAPS and is currently a DJ on CAPS Radio KPPQ 104.1 FM, hosting a weekly program featuring music artists and bands in the community. Pam is also well known in the community as the driving beat behind Ventura Rocks, the main source for what's happening with the vibrant Ventura music culture. She is also a contributing music writer for the Ventura Breeze.
Pam's commitment to CAPS Media is reflected in her candidate statement for the recent election: "I am a lifelong supporter of local broadcasting, TV or Radio. I understand the importance and role of having local broadcasters in a community verses big business syndicated programming. Local media breathes life into a community."
Joining Pam is Kathy Good, a CAPS Media board of directors' veteran. Kathy has served on the CAPS board since 2015. Her re-election allows her to continue her dedicated support and as board secretary. Kathy's candidate statement says it all. "I am an eleven-year veteran producer/volunteer and four year Board Member, Executive Committee and Board Secretary at CAPS Media and recipient of the 2014 W.A.V.E. Leadership Award. I am inspired to work with the Board to develop stronger community ties and expand our viewership. As an educator I embrace the digital age that allows anyone to share stories that create community connection. I will work to actively recruit producers from our community. As a CAPS Radio KPPQ talk show host/producer of "In The Women's Room," I am committed to freedom of speech as well as providing a platform for women to discuss their issues, their concerns and their art. I am committed to our local treasure: CAPS Media!"
Pam and Kathy join an outstanding group of dedicated volunteers on the board: Cliff Rodrigues (Chairperson), Darryl Dunn (Vice Chairperson), Cathy Peterson, William Schneider, and Michael Velthoen and representatives from four partner organizations, Ashley Bautista (City of Ventura), Bill De La Espriella (County of Ventura), Tim Harrison (Ventura College) and Marieanne Quiroz (VUSD).
We are sad to report that our friend and CAPS board member William (Bill-E) Johnson recently passed away. Bill-E was a very active member/producer and supporter of CAPS Media. He will be missed by all of us.
CAPS Media is very pleased to be invited by the Ojai Film Festival to screen The Perfect Firestorm – The Thomas Fire Story on Sunday November 3rd at 1pm and Friday November 8th at 1pm at the Sane Living Center at 316 E Matilija St, Ojai. The film chronicles the extraordinary personal stories of survival and healing during and following the devastating Thomas Fire. The public is encouraged to attend. Details can be found at https://ojaifilmfestival.com/.
Fall is a great time to join the growing community of CAPS Media Member/Producers. If you have an interest in community television or radio production, or are just curious, drop by the CAPS Media Center on the first Thursday of the month and learn how to become a member of CAPS and join our community of enthusiastic and engaged Member/Producers. Go to CAPSMedia.org for more information.