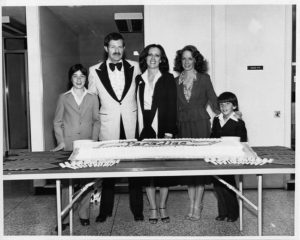 In the late 70s, Bob and Nancy Gregory were in search of a location for their first GM dealership when they came across Ventura County. While driving up Victoria Ave. towards the mountains for the first time, Nancy exclaimed, "This place is Paradise!" to which Bob replied, "Paradise Chevrolet," and the rest is history.
In the fall of 1979, Bob and Nancy opened the Paradise Chevrolet dealership in Ventura. The Gregory's main goal was to build a legacy founded on loyalty and community, which they still stand by today. Bob's gift for levity and understanding created a deep-seated loyalty with his employees. Today, Paradise has several employees celebrating anywhere from 20 to 38 years with the dealership.
Raised by a humble family of sharecroppers, Bob had compassion for people in all circumstances. Even during recessions, Bob believed in building relationships and having a customer for life. He made it known to his employees that the customer experience was important and often stated, "We want to hold our heads up in the community because we are part of this community." According to Nancy, because of this, they have a high number of loyal repeat customers which is unusual in the car industry.
Nancy was also an integral part of the success and expansion of Paradise Chevrolet. Starting from the beginning, she was a jack of all trades. She specifically jumped from department to department in order to identify issues that affect the efficiency of their business. Over the years she then became the lead in purchasing property and designing new dealerships, and together, Bob and Nancy build a GM Legacy in Southern California.
In December of 2018, Bob Gregory passed away leaving behind his legacy in the hands of his family. Today, while Paradise Chevrolet and Ventura County will always miss Bob's southern charm, Nancy has gracefully taken charge. It's Nancy's hope to see the next 40 years of Paradise Chevrolet's success with her children, grandchildren and other that have made Paradise Chevrolet a Ventura County icon.