On Tuesday, September 3rd, the City of Ventura, Councilmember Lorrie Brown, the Ventura Botanical Gardens, the Serra Cross Conservancy and California Lutheran University partnered with more than 500 college students to improve the hillside area of Grant Park which was damaged during the Thomas Fire.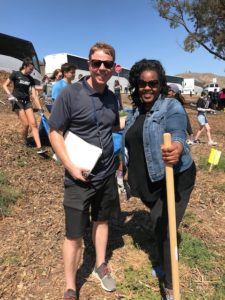 Steven De Fratus, Community Partnerships Supervisor coordinated the project with Councilmember Brown.
"We raked mulch in the area impacted by the fire. It was a creative way for us new freshmen to really get to know each other and help out our community. Helping our community is important to me and I think this is a great way to do it," said freshman Erica Weis.
The students spread mulch, removed debris and cleaned areas surrounding the trails. For the past 12 years Volunteer Ventura has partnered with Cal Lutheran for the "You've Got Served" volunteer effort to improve various areas of Ventura.
"I am an alumna of CLU and it was great to work alongside CLU students to help improve our community during this important service project," said Councilmember Lorrie Brown. "The more we can work together the better our community will be. The students worked so hard during this project. They truly helped to make a difference in Ventura."
Ventura Botanical Gardens Board President Tracy Long was also on hand helping to pitch in.
Previously Cal Lutheran's students and city staff have removed arundo and invasive ice plant in the Ventura Harbor Wetlands located off of Spinnaker in the Harbor.
The Gardens are open Tuesday through Sunday, from 9 a.m. to 5 p.m. Members get in free (with $45 annual membership) and others pay $7. On Tuesdays, admission is free. Dogs are welcome Tuesdays and Wednesdays.