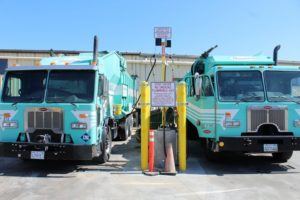 Harrison Industries continues to lead the ecological charge, achieving well beyond carbon neutrality in terms of greenhouse gas emissions. According to the latest Climate Registry and Avoided Emissions Reporting, Harrison Industries "has fully offset its direct GHG emissions 18 times – well beyond net zero."
So impressed was The Climate Registry with Harrison's numbers that it named the company its latest Member of the Month. Each month, one Registry member is recognized for commitment to emissions reporting and leadership in taking action on climate change; Harrison is the first-ever waste hauler to be distinguished with this Member of the Month commendation.
"Our low emissions numbers are remarkable but not unexpected," said Harrison's Nan Drake. "We have a well tracked history of avoided emissions and following all of the protocol. We see this as our greatest responsibility and our greatest success as a trash/recycle company."
Harrison joined The Climate Registry in 2008 – just after the registry was formed – and it's met its goal of remaining far ahead of the clean-air curve every year.
The Climate Registry is a nonprofit organization designed and created in 2007 to manage and reduce businesses' greenhouse gas (GHG) emissions. Governed by U.S. states and Canadian provinces and territories, the registry operates GHG reporting programs globally and assists organizations in measuring, reporting and verifying the carbon in their operations in order to manage and reduce it.
With 12 new compressed natural gas trucks, Harrison Industries has vowed to buy only CNG trucks going forward. "Our truck fleet is totally in compliance," said engineering manager Mike Harrison, "and we voluntarily report all greenhouse gas emissions to The Climate Registry, which makes us a Climate Action Leader."