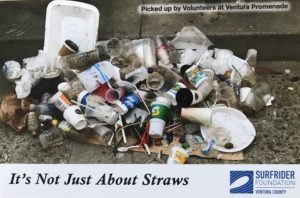 Surfrider Ventura's "Plastic Free Ventura" campaign launched on Earth Day in 2018 as a response to the amount of EPS and single-use plastic and bioplastic foodware litter found at local beach cleanups. The most common items collected include expanded polystyrene foam ("EPS", TM "Styrofoam"), and plastic and bioplastic straws, lids, cups, plates, condiment cups and utensils.
Plastics and bioplastics are not marine biodegradable. Instead, they photo  degrade into tiny pieces of plastic causing pollution that is virtually impossible to remediate. When plastic enters our waterways, it adsorbs toxic chemicals such  DDT, PCBs, PAHs, and flame-retardants found in our waterways, polluting our ocean, waves and beaches and harming marine and wildlife.   Alarmingly, scientists estimate that by 2050 there will be more plastic than fish in the ocean by volume – unless we act now!
California AB 1884, which took effect on January 1, 2019, requires that plastic straws at full service dine-in restaurants be provided only upon request.  While this is a step in the right direction, most EPS, plastic and bioplastic debris we find at beach cleanups come from take-out and other food establishments.
There are 120 cities in California that have local legislation aimed at reducing EPS and single use plastic and bioplastic foodware litter.  Surfrider will soon be asking Ventura City Council to pass a comprehensive Ordinance to ban EPS, plastic and bioplastic single use foodware.  A copy of our proposed Ordinance will be made available on Surfrider Ventura's Plastic Free Ventura webpage later in the year (https://ventura.surfrider.org/programs-and-campaigns/plastic-free- ventura/).
If you would like to help us with this Campaign, please visit the Plastic Free Ventura webpage.