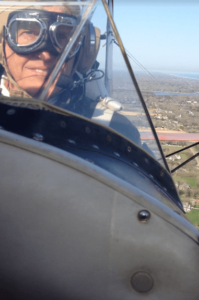 Matt Norklun wasn't looking to become a supermodel – his dream was always to be a stuntman. He got his start in the movie "So Fine" starring Ryan O'Neal. But after a chance encounter with renowned fashion photographer, Bruce Weber, Matt was swept up in the fashion world and became an international supermodel, best known as the face of Perry Ellis menswear.
Today, the bicoastal actor, model and director, is as busy as ever, but he still reserves time for his philanthropic work. When in Southern California, Norklun volunteers his time with the Commemorative Air Force Museum, Southern California Wing (CAF SoCal).
On June 26, Norklun, on behalf of CAF SoCal, will be piloting a WW II Warbird flyover as part of the "Salute Our Veterans" celebration at Cypress Place Senior Living. The senior living community is hosting their 11th annual celebration of Veterans with a ceremony recognizing residents of Cypress Place, as well as members of the public, who served their country. The event is free and open to the public. The flyover is new to the event this year.
In addition to the flyover, a real Huey Army MEDEVAC helicopter will be on display from 11am to 1pm during the event. The helicopter on display has bullet holes from its time in Vietnam.
No less emotional will be the ceremony recognizing residents of Cypress Place, as well as members of the public, who served their country.
Leading the tribute will be a bagpipe processional and military Color Guard presentation followed by a special Veteran recognition, along with recognition of widows and widowers of Veterans. Keynote speaker will be Captain Michael France, from Naval Base Ventura County.
Special words of thanks will be also be offered during the ceremony by local dignitaries. There will be live musical entertainment, a flag folding ceremony, and TAPS will also be played at this touching tribute.
A free BBQ lunch will follow the powerful program. Military memorabilia from residents of the senior community will be on display.
CAF So Cal will also have a display of memorabilia curated from their extensive aviation museum, along with an Army jeep available for attendees to sit in or pose next to for photographs. There will also be information available about Veteran's benefits from representatives of the Veteran Services Office from the County of Ventura.
After the flyover and ceremony portion of the event, Norklun will be at the event to greet those in attendance and answer questions about the WWII aircraft used in the flyover.
"I understand there is a resident at Cypress Place who actually flew this type of aircraft in World War II. I can't wait to meet him, and the other vets, and hear about their experiences", said Norklun.
All Veterans are encouraged to attend, as well as families, friends and neighbors.
Free shuttle parking will be available at Unitarian Universalist Church of Ventura (corner of Ralston Street and Cypress Point Lane).
To learn more about Cypress Place Senior Living of Ventura, visit their web site at www.cypressplaceseniorliving.com.
###
If you'd like more information about this press release, please contact Mike Macke at 805.650.8000 x102, or via email at cyps.crd@meridiansenior.com.