There's a great deal of respect and tough love between head coach Kory Anderson and his protege Derek Pekar.
by Mira Reverente
High school senior Derek Pekar had some memorable parting gifts for his alma mater, Ventura High School – two impressive finishes at the recent CIF State Championship Finals.
The 18-year-old finished 8th in long jump and 9th in the 110m hurdles at the finals held over Memorial Day weekend in Clovis. It was Pekar's second appearance at the state finals, with his junior year being the first.
"I'm comfortable competing," he says, when asked if he ever gets the jitters. "I visualize a lot and watch videos of my races."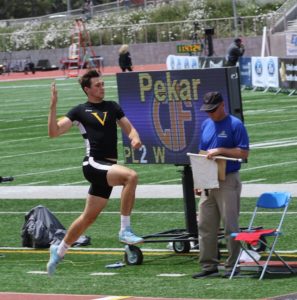 He attributes a lot of his mental tenacity to track and field head coach Kory Anderson. "He pushes me. I wouldn't have gotten into decathlon if not for him," says Pekar who started running with the Ventura Tigres at age 6.
"There's a lot of tough love definitely," says Anderson. "But over the years, our relationship has evolved from coach-athlete to friends where there's a great deal of respect and trust."
Anderson was one proud coach after hearing that his star athlete earned admission to the University of Virginia this fall. "I have no doubt he'll do really well there," he says of his protege.
The coach describes Pekar's work ethic and success. "He's successful because of concentrated effort. He has done everything I've ever asked him to do," says Anderson who is on his 14th year of coaching.
"He's never anxious or stressed," he adds. "He's just a born competitor."
Anderson also talked about the incredible support system the coaching staff has. "We are blessed with good athletes, parents and coaches. We are really fortunate."
Pekar's parents have showed nothing but all-out support for their second-born. His older brother, a Marine, also ran for Ventura High School. "Between the two of them, they've probably missed two meets in four years of competing in high school," says Pekar.
Other notable showings from Ventura High School: Carlos Aviles placed 9th in shot put. Aviles is headed to Ohio State this fall. Junior Madeleine Locher came in 10th in the 3200m.