United Way of Ventura County's (UWVC) Women United will recognize some unsung local heroes during its 3rd Annual Luncheon May 10, featuring acclaimed social psychologist and author Dr. Aida Hurtado.
Event co-chairs Leanne Neilson and Erin Simqu are busy putting the final touches on the 2019 luncheon, but they aren't the only women who have been working hard leading up to this special gathering of changemakers.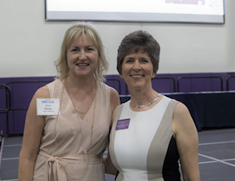 The 3rd Annual Women United luncheon will recognize Ventura County single mothers who are pursuing their education and supporting their families in the process. Recipients of the Women United Educational Award are single mothers who are completing their associate degree and transferring to a four year university or technical program, and have children under the age of 18 living in the home. The financial award may be used to offset any costs associated with efforts to attain higher education, including tuition, books, childcare, and transportation.
Erin Simqu has been working with Women United since they founded the Ventura County chapter four years ago. This is her third year chairing the luncheon and she has served as an acting member on the board since shortly after the chapter's inception.
Dr. Neilson is chair of the board for the Thousand Oaks Alliance for the Arts, and chair of United Way's Women United in Ventura County. She was on the Board of the United Way of Ventura County for 6 years, serving one year as Board Chair.
Women United 3rd Annual Luncheon,11 a.m.-2 p.m. Friday, May 10
California Lutheran University, Gilbert Sports & Fitness Center
Luncheon Tickets: $100 each. After May 1, 2019, price increases to $125.
Luncheon Tickets are available online at https://vcunitedway.org.
For sponsorship opportunities contact Mitchel Sloan at Mitchel.Sloan@vcunitedway.org
For more information , visit https://vcunitedway.org.