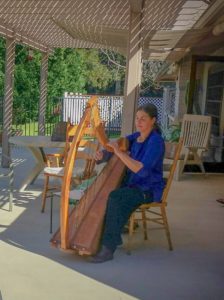 Lori Sunshine has been working as a Professional Music Therapist since the first year that Board Certification was established, in 1983. She is currently working full time here in Ventura County: part time in private practice and part time with Livingston Memorial Visiting Nurse Association.
On March 29, 2019, she received the Professional Practice Award from the American Music Therapy Association's Western Region Chapter at their annual conference in Portland, OR. The award recognizes individual AMTA members who have made a significant contribution to the professional development of other members of the Association. Lori has offered dozens of Workshops and Seminars on the topic of Music Therapy and presented at many AMTA conferences during her 35 years of service. She has been a trusted educator and role model for those entering the field and is a passionate advocate for the benefits of Music Therapy in health care.
Livingston Memorial Visiting Nurse Association has offered Music Therapy as part of their Hospice program since 2015. There is a wealth of research indicating that music is the last external sensation that registers with a dying patient. Music not only provides comfort to patients and their caregivers but can also evoke strong feelings in many patients, helping to alleviate pain, lower stress and even break through the isolation of dementia or memory loss. Livingston's Music Therapists design sessions to meet their patient's needs, which may include such activities as live performance (Lori plays harp, piano and guitar), singing, music listening, and compiling a mix of a patient's favorite songs.
Livingston's Music Therapy program employs two professional Music Therapists who provided 322 hours of music therapy to 78 patients on hospice care in 2018. Livingston is proud of Lori and her accomplishments and for making our program such a success. The program is partially funded through a grant from the Henry W. Bull Foundation. If you would like to learn more about Livingston and the Music Therapy program, please visit www.lmvna.org.