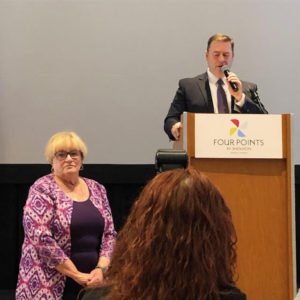 Over 1 million joint replacement surgeries are performed in the United States each year, with knees and hips being the most common. In the coming years, these numbers are expected to rise. Fortunately, thanks to recent advances, joint replacement surgeries are more effective than ever, and the recovery process has become easier.
The latest developments in these surgeries will be the focus of a free seminar at 6 p.m. on Wednesday, March 20. Titled "Advances in Joint Replacement Surgery," the seminar is hosted by Community Memorial Health System as part of its 2019 Speaker Series.
The guest speaker will be Dr. Thomas Golden, a member of the CMH medical staff with more than 30 years of experience as an orthopedic surgeon.
Dr. Golden will discuss the newer and more effective ways to perform joint replacement surgery and how patients can return to their active lifestyles. The March 20 seminar will begin at 6 p.m. at the Museum of Ventura County, 100 E. Main St. Registration is free but reservations are required. For reservations, visit www.cmhshealth.org/rsvpor call Brown Paper Tickets at 800-838-3006.
Community Memorial Health System is a not-for-profit health system, which is comprised of Community Memorial Hospital, Ojai Valley Community Hospital, the Centers for Family Health, and various outpatient centers serving communities located within Ventura County, California.
More aortic valve stenosis patients will be treated locally and minimally invasively
Community Memorial Hospital has added another procedure to the growing list of minimally invasive heart procedures: transcatheter aortic valve replacement (TAVR).
TAVR is a minimally invasive surgical procedure that repairs a narrowed heart valve without removing the old, damaged valve. Instead, an artificial valve is placed in the aortic valve through the femoral artery (the large artery in the groin) using a long catheter. There's no large surgical incision in the chest. Once the new valve is expanded, the tissue in the replacement valve regulates blood flow from the heart to the body. Previously, heart valve replacements required open-heart surgery in which the sternum is surgically separated, which typically required longer recovery for patients.
"The TAVR procedure is reducing the need for open-heart surgeries in some instances and hastening patient recovery," said Dr. Omid Fatemi, Community Memorial Health System's Medical Director of Structural Heart and High Risk Revascularization.
The newly opened Ocean Tower's state-of-the-art cath lab allows CMH to expand its line-up of heart procedures that couldn't be performed in the old hospital. Within the first week, four successful TAVR procedures have been completed at CMH, and more are planned for the near future.
The Ocean Tower cath lab has four procedure rooms and a fifth is expected to be added by next year. The new, expanded cath lab also features start-of-the art imaging equipment with superior imaging quality and new, superior diagnostic and ultrasound equipment.
TAVR is an FDA-approved procedure for people with aortic valve stenosis who are considered at intermediate or high-risk for open-heart valve replacement surgery. The FDA approval has expanded over the past few years with the outstanding results that have been achieved with this technology.
The Structural Heart Program at the new CMH offer minimally invasive procedures for heart problems, and most patients can go home the next day. Procedures include TAVR, ASD and PFO closure, and the WATCHMAN Left Atrial Appendage Closure Implant for patients with non-valvular atrial fibrillation (AF) who can take warfarin but seek a non-drug alternative to reduce their risk of AF-related stroke.