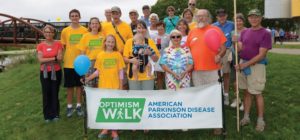 The Parkinson's Foundation will host its annual Moving Day, Ventura, A Walk for Parkinson's to unite the community in the fight against Parkinson's. Funds raised through Moving Day will support cutting-edge research and community programs to improve the lives of people with Parkinson's disease and their families. On April 13, 9am -12pm at the Ventura County Fairgrounds.
More than just a walk, Moving Day Ventura is a celebration of movement featuring a kids' area, a Resource Pavilion and a special Movement Pavilion with yoga, dance, Tai Chi, Pilates and other activities—all proven to help manage Parkinson's symptoms. Moving Day events across the country have raised nearly $22 million dollars to improve care and advance research toward a cure.
The Parkinson's Foundation makes life better for people with Parkinson's disease by improving care and advancing research toward a cure. In everything we do, we build on the energy, experience and passion of our global Parkinson's community. For more information, visit www.parkinson.org or call (800)473-4636).
To register or donate visit www.MovingDayVenturaCounty.org.