On Thursday, January 17th, School on Wheels along with 12 other local nonprofits were awarded grants totaling $105,000 by the Ojai Women's Fund.
School on Wheels is a local nonprofit that celebrated its 25th Anniversary last year providing educational assistance to children and youth experiencing homelessness.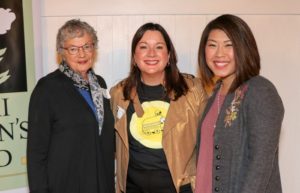 Their $10,000.00 grant from the Ojai Women's Fund (OWF) is to continue and expand their program in the Ojai Valley by recruiting, training and matching volunteer tutors with students living in shelters, motels, cars, on the street and in group foster homes.  This funding will specifically support their program to a group foster home for sexually trafficked youth (Commercial Sexual Exploitation of Children) ages 12-18.
Catherine Meek, Executive Director of School on Wheels is a resident of Ojai and also one of the newest members of the OWF.  In 2018 they provided one-on-one tutoring and mentoring to over 3,500 children.  Sinead Chilton, Director of Development and Marketing, accepted the award on their behalf and stated "Our hope with the funds you have given us is that we can recruit, train and match volunteers in Ojai that are willing to work with older students and be positive role models for kids that have experienced trauma that most of us cannot even begin to comprehend. "
To find out more about School on Wheels and to apply to be a volunteer tutor visit their website at www.schoolonwheels.org.