Being installed by Marie Lakin (on the right) are Mary Thompson, Chuck Albert and Marsha Brumana
On Thursday, January 10, the new Olivas Adobe Historical Interpreters (referred to as docents) board officers were sworn in by Marie Lakin, City of Ventura Cultural Affairs Commissioner at Mimi's Café at the Pacific View Mall.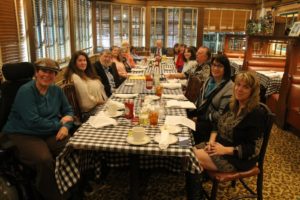 Attending the swearing-in ceremony dinner were other docents and invited guests.
Marie Lakin made the following comments at the swearing in.
"Since 1847 the Olivas Adobe has been Ventura's living room and center of the city's social and cultural life as it grew from Chumash village, to a Mission-era Spanish and Mexican settlement. The Olivas Adobe is California's only remaining Monterey Style adobe from the Gold Rush era built by a Mexican family who provided much of our city's social life."
"The docents and board members perform a most valuable service of not only protecting the historic Olivas Adobe, but also keeping relevant by planning and staffing its many activities year-round. The docents are chiefly responsible for keeping alive the rancho's many seasons of history and celebrate the skills, traditions and heritage that belong to Ventura's—and America's—many peoples. The Board of the Olivas Adobe Historic Interpreters oversee the docent operations and ensures that they run smoothly and successfully."
"Thanks to the OAHI docents, the Olivas Adobe continues its long tradition of hospitality today by hosting a full calendar of diverse cultural events for all ages. It is now my pleasure to swear in the new board's elected officers President Chuck Albert, Vice President Mary Thompson, Secretary Marsha Brumana and Treasurer Joanne Abing."
"Please raise your right hand and repeat after me."
"I promise to conduct myself with dignity and decorum when representing the Olivas Adobe Historical Interpreters and the City of Ventura. "
"I swear to uphold the By-Laws of the Olivas Adobe Historical Interpreters and to do my job as an elected officer to the best of my ability. "
"Now, it is my pleasure to present to you the Olivas Adobe Historical Interpreters elected and installed officers for 2019. Thank you, everyone for attending tonight's Olivas Adobe swearing in ceremony and congratulations, new board members!"