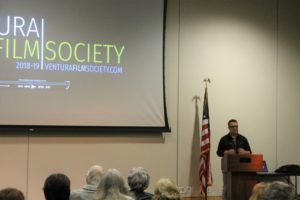 The Ventura Film Society 2.0 hosted a reception at the Museum of Ventura County on December 7th to preview its 2019 season. Commentary from past VFS members and introductions from past VFS director Lorenzo Destefano, along with new Executive Director Mike Miller were presented.
The Ventura Film Society is about to be reborn. Founded by Ventura-based filmmaker Lorenzo DeStefano in 2008, the VFS brought over 400 films to discerning audiences before going on hiatus in 2016 so that Lorenzo could produce and direct his film, Hearing is Believing. He has just completed his play Shipment Day which opened in Hawaii.
By video Lorenzo congratulated the new VFS Team of Mike Miller, Braedon Freeland, Gina Nemo, John-Arthur Ingram and Justin Viar as they embark on the next generation of bringing independent films and filmmakers to Ventura. He also thanked all who have supported the Society and asked for their financial support as well.
"Please support their efforts in the coming months as they continue on their own path of celebrating Film as Public Art and bringing people together in the dark." stated Lorenzo Destefano, Founder & Former Director, Ventura Film Society.
The Ventura Film Society's mission is to provide a foundation for our community to grow and thrive through the art of film with imaginative and compelling cinematic experiences in our city.