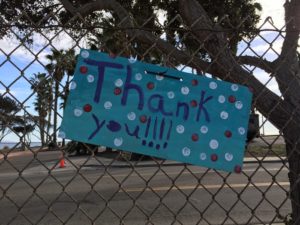 The Perfect Firestorm, our documentary film that chronicles these personal stories of survival and healing during and following the devastating Thomas Fire had a series of successful screenings last week. Comments included "Emotional, heartbreaking and yet so much heroism and community pride" posted Kat Merrick and another told us "I learned so much and realized it wasn't just me, I wasn't alone". These were held at the beautiful Museum Pavilion hosted by the Museum of Ventura. We received such positive feedback that we have planned an additional screening on Tuesday January 22nd at 6pm at the Museum. Go to our website for information.
The film will begin airing on CAPS channel 6 beginning the 23rd of this month. The dates and times will be posted on the CAPS Media webpage. There will be other opportunities to view it in the new year. The Perfect Firestorm is a tribute to our entire community of heroes who, in the face of an overwhelming crisis, responded with astonishing calm and then opened their hearts, hands and homes to rescue neighbors and strangers and together rebuild their lives. It cannot be said enough – Our community came together.
CAPS Media's community involvement continues. We are offering support including coverage of theatre productions and production of training videos for both the Micro Biology and Chemistry departments at Ventura College. In addition, we support both Ventura County Fire and the Fire Safe Council. Production for the Ventura County News Channel includes the most recent video which introduces America's Job Center. The center located in Oxnard offers support to search for jobs, build résumés, access career resources, and find information on education and training programs. The annual West Coast Community Media Awards are just around the corner. With over 50 public access centers participating we wait with anticipation to learn if any of our community-focused programs or those of our students or members have won awards. We will keep you posted.
Our mission is to educate and inform. We continue to educate members on what CAPS is and does and how they as members can contribute to local and global discussions. We train and mentor each member every step of the way. Do you have an idea? questions? We here to help answer them. Have you produced a film or video that you would like to share? Come attend the orientation and learn how you can participate. All training sessions are held Thursdays with the KPPQ-LP radio station's classes held on a Wednesday as well. Go to the web page for more information.
Commitment to our community continues as we share the Ventura City Council meetings live on channel 15. In addition, we air the City of Ventura's Design Review and Planning Commission meetings. The Ventura Unified School District and the Ventura County Board of Supervisors meetings are also broadcast on channel 15.
Please contact CAPS Media at capsmedia.org or at 805.658.0500 for information about the screening and about how to join and become a member. Our mission is to create an engaged and informed community through participation in electronic media.