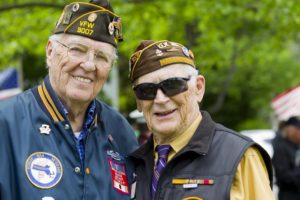 According to Census data, more than 20 million Americans are veterans of foreign wars. Roughly half of those veterans (9.2 million) are aged 65 and older, including more than 1.3 million World War II veterans over the age of 85.
Though our nation's heroes may have the gift of longevity, with more years often comes a greater strain on financial resources. If you or a loved one is a veteran, read on to learn about the variety of public and private benefits that can help you afford to remain independent, healthy, and secure.
Types of veterans' benefits
Veterans' benefits come in many forms—from cash grants and education assistance to home and community-based services. Eligibility for many programs depends upon the length and type of service, whether you incurred any service-related disability, and your household income. Many of the programs described below are available to veterans of all ages who qualify.
Veterans' pensions are administered by the Veterans Administration (VA) and provide a monthly cash benefit to those 65 years of age or older or who are disabled at any age. The amount you receive depends on your income, number of dependents, and the program's pension rate for the year of your application.
Disability payments are available to veterans who suffered an injury/disease or worsening of such a condition while on active duty. Extra compensation is available if you have very severe disabilities or limb loss, dependents, and/or a seriously disabled spouse.
Financial aid for education is also available through the Montgomery GI Bill Active Duty (MGIB-AD) or Post-9/11 GI Bill to help pay for tuition, books, fees, examinations, and housing expenses for graduate and undergraduate degrees, and vocational and technical training.
The Aid and Attendance (A&A) and Housebound benefits are two programs that provide financial help for veterans and surviving spouses who require the regular attendance of another person to assist in eating, bathing, dressing, and toileting. It also helps pay for care in assisted living facilities. This benefit is only available to those with a wartime service record (and their spouses) who are aged 65 and older and who also qualify for a VA basic pension.
The Choice Program can help you find health care services in your community, as an option to bypass waiting for appointments with the VA or traveling a long distance to get to a VA facility.
VA Blind Rehabilitation Services help you remain independent by providing services if you are blind or have low vision. The services can take place in an inpatient or outpatient facility or in your home, based on level of need.
Veterans' home loans help members of the military secure mortgage loans to purchase a home. The VA administers a guaranteed mortgage loan through an approved lender. A VA loan will protect you if you end up having trouble paying your mortgage, as the VA will guarantee repayment of the loan to your lender.
Caregivers of veterans may also be eligible to receive help through programs such as:
Adult Day Health Care (ADHC) services, which enable the veteran to participate in supervised, safe activities outside of the home, giving the caregiver an opportunity to take time for self-care.
Respite care of up to 30 days per year to provide a break from their caregiving duties.
All the programs are included in BenefitsCheckUp.org, NCOA's free and confidential online benefits screening tool.
Completing the BenefitsCheckUp® questionnaire will show whether you or a loved one are likely eligible for the programs, and provide information on where to get assistance with your application, including through the Veterans ON-line APPlication (also called VONAPP), a regional VA office, or the VA toll-free helpline at 1-800-827-1000.