This non-profit stands out as a place for seniors to design and make products. Photos by Richard Lieberman
by Richard Lieberman
The Seniors Craft Shoppe recently celebrated its anniversary. Located in downtown Ventura at the Zander Alley shopping area, at 4333 E. Main, the shop has been operating for the past 40 years.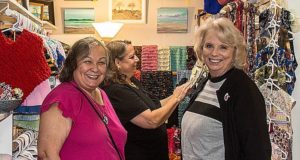 Seniors Craft Shoppe specializes in handcrafted items, gifts and seasonal décor. Special ornaments for the Christmas tree, table decorations and more. The shop also specializes in holiday giftware. Valentine's Day, Easter, Halloween are all covered by great handmade items.
This non-profit stands out as a place for seniors to design and make products like soft toys, doll clothes and stocking stuffers. All their products are handmade by Ventura County seniors. The store is staffed by seniors as well and they are always happy to help you with selections, suggestions and warm greetings.
The stores motto is "if you can't find what you need, we will make it for you." Inventory is always changing, and you can always find wood carvings, crocheted coasters other ornaments among the stock. Many of the available craft ware are one-of-a-kind, and always hand-crafted by seniors. There is so much available it is impossible to list all here, but some additional items are tote bags, dog sweaters, aprons, wallets, hats, scarves and still much much more. Latest project for the shop is making "green" items from recycled materials like plastic bags turned into hats and bottle carriers and paintings on salvaged wood.
For their 40th tables were decked out with finger foods, sandwiches, sweets and drinks available to all who visited on Saturday October 27th .
Congratulations to the Seniors Craft Shoppe for 40 years of serving the Ventura community and for making seniors lives meaningful and fulfilling. We at the Breeze wish you the best and at least another 40 years in downtown.