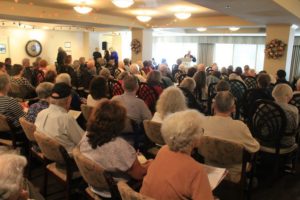 In collaboration with the Ventura County Adult Abuse Prevention Council (VCAAPC), Cypress Place Senior Living in Ventura presented a fun, free and educational program on avoiding senior scams.
The Stop Senior Scams (SM) Acting Program used theater to dramatize senior scams. Members of the troupe, ranging in age from 60 – 97 years-old, write and perform skits based on their own personal experiences. It is a memorable way to equip those who are vulnerable with the knowledge they need to protect themselves.
​Using popular songs like the Rolling Stones "You Can't Always Get What You Want", "Getting to Know You ", from the Rogers and Hammerstein musical "The King and I", Abba's "Money, Money, Money", and the Supremes "Stop in the Name of Love", the troupe brings theatricality, laughter and excitement to a commonly frightening and frustrating topic.
The program was founded in 1997 by director Adrienne Omansky who was a teacher of older adults and adults with disabilities.  The Stop Senior Scams (SM) Acting Program has been recognized by the U.S. House of Representatives and the California State Assembly, according to Nancy Cole, an eldercare manager and board member of VCAAPC.
Omansky stated " On March 7 , I testified  for the U.S Special Committee on Aging about the effectiveness of this Peer to Peer Education Program.  The program started nine years ago and comments from seniors have been collected and reported in my testimony. I learned that
anyone can be a victim regardless of education, race, gender, national origin, or social economic background.  Seniors are more likely to tell their peers they have been scammed than family members including their spouses.  I have learned that seniors often do not know where to report scams to. I have learned the senior scams are grossly under reported.  I learned that residents in Assisted Living Facilities are specially vulnerable to scams."
Also on hand during the event were vendors who provide a variety of services to the senior population. Attendees asked questions and received materials from these corporate sponsors.
The Ventura County Adult Abuse Prevention Council is a not-for-profit service organization dedicated to the prevention of elder and dependent adult abuse. To learn more about VCAAPC please visit their web site at vcaapc.org.
This program took place on October 11, from 1:30p.m. to 3:30p.m. at Cypress Place Senior Living , located at 1200 Cypress Point Lane.