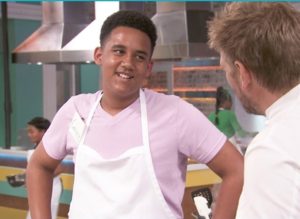 Thirteen year old 8th grade Cabrillo Middle School student Carson Peterson has been chosen from thousands of kids to compete on 'Top Chef Junior' airing on Universal Kids for their second season. Top Chef Junior, the cooking competition spun off from the popular Top Chef last year,
He is 1 of 11 contestants competing for $50,000 and the title of Top Chef. Peterson applied to be on the show in January and made it through two rounds of eliminations.
Said Peterson. "It was a lot of hard work and more hard work to come, but I was really happy." Carson credits his grandmother for teaching him how to cook when he was younger. "She is a really big inspiration for my cooking and she's taught me a lot."
Top Chef Junior, Season 2, airs on Saturday, at 6 p.m. on Universal Kids. For more information, visit www.universalkids.com/shows/top-chef-junior. Follow Carson Peterson on Instagram at @topchefcarson.
Meet Carson! He's a 6'3 gentle giant with a heart of gold and a passion for cooking. He fell in love with it while watching his Italian grandmother in the kitchen. He has great respect for tradition and the importance of passing down recipes. When he's not in the kitchen you can find him getting straight A's, shooting hoops, or playing one of five instruments!