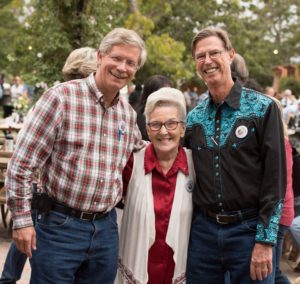 Forty years ago, eight friends banded together to provide food to those in need in Ventura. Today, FOOD Share celebrates 40 years of service in Ventura County at the 3rd Annual Blue Jean Ball at Walnut Grove at Tierra Rejada Farms on Thursday, September 20th from 5-9pm.  The food bank's signature event will help raise the support necessary to feed the one in six Ventura County residents who is still food insecure.
"The need to help the hungry hasn't changed in last 40 years but the face of hunger has evolved," said FOOD Share President and CEO, Monica White. "The struggle to avoid hunger is real and affects thousands of working families, seniors, veterans and children right here in Ventura County. It's not just the homeless that are food insecure in our community today. We simply couldn't help everyone without the wonderful support of our donors, volunteers and the community."
More than 20 local restaurants, wineries and brewing companies will be serving samples at the event along with entertainment, delicious desserts and a silent auction. "The name says it all: wear those blue jeans!" says Jennifer Caldwell, marketing director. "It's an evening of reflection and appreciation as we celebrate FOOD Share's 40 year history."
Tierra Rejada Farm's relationship with FOOD Share dates back to the 1970's when the "pick-your-own" farm and roadside market was on Sunset Valley Road.  Whenever the farm was blessed with surplus crops, owner Rick Brecunier would call on FOOD Share volunteers to glean the crops for distribution to Ventura County's hungry residents. The farm has once again generously donated the venue space at Walnut Grove to serve as the stunning backdrop for FOOD Share's 3rd Annual Blue Jean Ball.
"What an incredible mission FOOD Share has served over the years." said Walnut Grove at Tierra Rejada Farms owner Rick Brecunier. "We couldn't be happier to host the Blue Jean Ball again for the benefit of FOOD Share. It's very heartening to see the tremendous support FOOD Share provides to the community and we want to do everything we can to support their efforts."
Individual tickets are available for $75 per person, and limited sponsorships are still available. Visit www.foodshare.com/bluejeanball for tickets and additional information.
Today, staff and volunteers distribute nearly 12 million pounds of food, or 10 million meals annually through its 190 pantry and program partners. As Ventura County's food bank, FOOD Share provides food for 75,000 hungry friends and neighbors monthly. FOOD Share is a member of Feeding America, the nation's largest hunger-relief organization, as well as the California Association of Food Banks. For more information about FOOD Share, visit www.foodshare.com, on Facebook , Instagram, and Twitter.