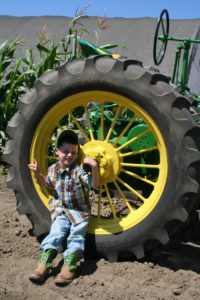 The Museum of Ventura County has multiple events coming up, including:
Opening Reception for "At Table: The Business of Food and Community" –Celebrate and explore Ventura County's rich history of cultural diversity, agricultural bounty and how the influx of immigrants has shaped our recipes, food traditions and eating experiences at the opening reception, 5:30 to 8 p.m., Aug. 30, for the Museum of Ventura County's newest exhibit, "At Table: The Business of Food and Community." Tickets for the opening reception are $5 for members, $10 for nonmembers with tickets available at the door. The opening is in conjunction with the Ventura Chamber's TASTE event which includes free admission to the Museum opening. TASTE tickets are available by calling 805-643-7222 or visiting venturachamber.com/taste2018. Museum members purchasing tickets for TASTE can use promo code Museum18 to receive the chamber member discount.
Museum's Free First Sunday Features Food as Paint – Focus on the Masters 'Learning to See' Outreach invites museum-goers to "play with their food" as part of a free art activity, noon to 2 p.m. on Free First Sunday, Sept. 2, at the Museum of Ventura County. Kids and adults learn about natural pigments by using a variety of fruits, vegetables, leaves and flowers as paint to create lively, colorful still-life artwork. While Free First Sunday offers free admission at both the Ventura and Santa Paula museum locations, the free art activities will take place only at the Ventura museum location. Free First Sunday is sponsored by museum donor Mimi Allin and the TOLD Corporation. For more information visit venturamuseum.org  or call 805-653-0323. Museum locations: The Agriculture Museum, 926 Railroad Avenue, Santa Paula. The Museum of Ventura County, 100 E. Main Street, Ventura.
The 6th annual Vintage Tractor Fair and Kids' Fun Zone – The fair at the Agriculture Museum immediately follows the Santa Paula's Labor Day Parade on Monday, Sept. 3, from 10:30 a.m. to 1:30 p.m. Get close-up and personal with the Topa Topa Flywheelers club members' rare and unique vintage tractors. Enjoy an afternoon of live music, food trucks, petting zoo, tractor and fair-themed activities and crafts for all ages. Admission is free for the Vintage Tractor Fair and to the museum, $5 for Kids' Fun Zone (parents are free). The Agriculture Museum is located at 926 Railroad Avenue, Santa Paula.
"Speaking of" Water Resources with local author – Florencia Ramirez, author of Eat Less Water, will be the featured speaker for the next Speaking of Ventura County Speaker Series, 1 to 2:30 p.m., Tuesday, Sept.11, at the Museum of Ventura County's Agriculture Museum in Santa Paula. Ramirez will share stories of America's food producers who grow food with less water from her book Eat Less Water. Ramirez sheds light on the seldom-seen connection between dwindling water resources and the choices we make when shopping for groceries for our families and offers a solution that begins in the kitchen. Cost is free with general admission; members free. The Agriculture Museum of Ventura County is located at 926 Railroad Ave, Santa Paula. For more information call (805) 525-3100 or email [email protected].