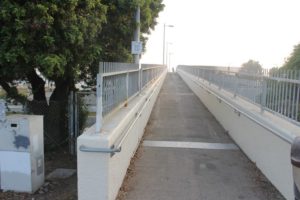 In previous issues the Breeze has commented on the horrible workmanship performed on the pedestrian crossing bridge that runs over the freeway to the promenade. We also commented on the horrible handrail.
"This is what the work consisted of per the Department of Transportation (DOT): 'The department is working with the City of Ventura to provide for a safe and accessible pedestrian overcrossing that gives access to people shopping, recreating and living in the area. This polyester concrete overlay will improve the surface and the replaced handrail will provide comfort and safety for users."
"Even though painting was not in the contract for Guills, Inc. of Pasadena, I would think that for almost $400,000 they could have taken a little pride in their work and spent a day painting it. "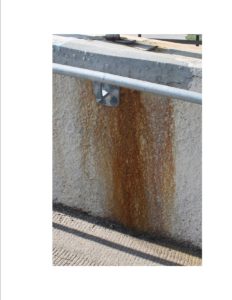 "I have contacted the DOT suggesting that they do the painting. If they won't, perhaps Ventura could paint it (it reflects upon us) or the Ventura Breeze could have a painting party and we can all paint it. Of course, we would need permission from the DOT and probably need to provide a million-dollar liability insurance policy."
Very happy and proud of Ventura to take it upon themselves to do the painting. The handrail still looks as it was installing by someone very drunk buy certainly wouldn't expect Ventura to correct this. And we never did get a response from the contractor. Hopefully they are no longer on the DOT's bidding list.