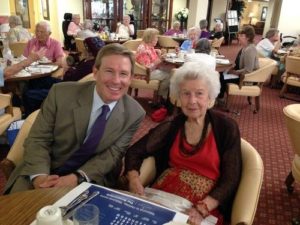 Ventura city councilmember and senior prosecutor Erik Nasarenko announced that he will be seeking a second term on the Ventura City Council representing newly-created District Four, which includes several East Ventura neighborhoods, including the communities of Juanamaria, Hobart Park, Ondulando, Clear Point, Hidden Valley and Wells Road and Citrus Drive.
"It is a fantastic place to live and raise a family," said Nasarenko, referring to the district, which was one of seven geographic zones finalized by the city council in December 2017. "I want to build upon the progress we have already made in East Ventura and throughout the city and continue to deliver leadership and results for our residents."
The former Mayor and father of two children, 9 and 12, has long championed improvements to the city's parks. During his first term in office, youth softball, soccer and lacrosse players were able to use a new sports' field at Ventura Community Park, and in 2017 Nasarenko dedicated a new tot lot adjacent to the park's aquatic center, one funded in part by $10,000 dollars of the councilmember's salary donations.
In his second term, Nasarenko would like to see Ramelli Drive extended into Community Park, which would give park visitors better access to the park's interior fields and pools. The street currently dead ends at the park edge.
"We have an 88-acre park and yet only one way to get in and one way to get out," said Nasarenko, who referees AYSO games at the facility. "City officials have told me that construction of the new road could start as early as next year, which is a positive development."
The council district was hit hard by the Thomas Fire, which damaged or completely destroyed several hundred homes in the hillside communities. More than four hundred of those homes successfully had their lots cleared by CalRecycle, the statewide agency brought in by the city council to oversee the debris removal process. Thanks to a dedicated rebuilding office tasked with expediting plans and permits, 13 rebuilding permits have already been issued, with many more awaiting final approval.
Nasarenko, who prosecutes child molesters, rapists and murderers, said public safety would continue to be a top priority if elected to a second term.
"When I was first elected, the Ventura Police Department had 126 sworn officers," said Nasarenko. "Today, thanks to additional financial resources and the ongoing prioritization of crime reduction in Ventura, we have 139."
In addition, the city council recently funded three firefighting positions that were cut in the economic downturn of 2009. The positions, which will be used for a roving fire engine, are intended to address an increasingly high call volume to the fire department and improve response times.
Nasarenko added that improving East Ventura infrastructure and water supply are critical items on the councilmember's to-do list.
"We are in the process of repaving Victoria between Telegraph and Foothill, and within the last couple of years the City repaved portions of Telephone and Kimball roads," said Nasarenko. "In addition, we installed a new water well off of Wells and Astor in 2015 that is capable of bringing up to 3,000 acre feet of water per year to East Ventura."
The election is November 6, 2018.