Michael O' Kelly in his studio with tile of son Devin.
by Jennifer Tipton
Michael O'Kelly has been making art for nearly 5 decades. Growing up in South Ireland and Wales, he is half Irish and half Welsh – "pure Celtic", he says. He comes from a family of artists, his father, great uncle and great aunt were all artists, his mother was a classical violinist and aunt a classical pianist. "My sister, Jane was a great painter and I, a musician, they called us child prodigies."
He sold his first piece of art at age nine while vacationing with his family in a little village called St. Ives. He was up earlier than the rest of his family, drawing a king fisher diving into the river to catch a fish. A lady was sitting next to him watching, and said, "that's beautiful, how much do you want for it?" That piece brought in ½ crown (2 shillings and 6 pence) and he bought himself breakfast.
Still drawing, he also studied winds and clarinet until age 13, when he sold his coin collection and bought a guitar. His family moved to London and, "terrible at school" he started studying classical guitar and found his way to a music school at Chiswick Polytechnics in London from age 15 – 17. He went on to The Royal College of Music and started performing classical guitar with the Omega Guitar Quartet. "We toured all over Europe, New Zealand, Australia and Canada and I loved playing, but I didn't like the lifestyle".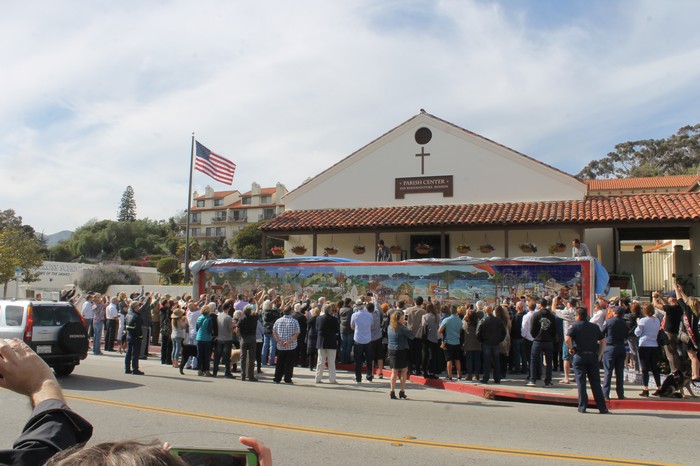 Moving to Mexico City, he joined a friend that had a dream to build a ferro-cement boat and sail the world. The project was started, but his friend became involved with politics and lost interest. Michael didn't want to go back to England, so he got a scholarship to the National University of Mexico to study pre-Colombian music and dance.
The Museum of Anthropology in Mexico City needed someone that could draw artifacts and record them as they came out of the ground. "I did that for a couple years and in 1977 decided to start dealing Central and South American art and exporting it to Europe, that's how I started collecting", he said. His collections were exhibited all over Europe and in 1982 went to the Santa Barbara museum where it was "the longest running show they've ever had".
After being in Latin America for 10 years, "I met the woman who would become my wife, Gisele. We stayed here in Ventura to open a gallery in Santa Barbara on State Street, but unfortunately when they started to build the Paseo Nuevo mall, it shut down State Street, and that was the end of that".
"In the late 80's, we moved back to Mexico City because I had the opportunity to work with Rufino Tamayo". This was a huge pivotal point for his career. Tamayo was 88 years old when Michael joined him. "He was a legend, teaching me about honesty and integrity, it was about the intellectual aspects of being a painter, not the technical aspects". Tamayo died in 1991.
"We came back to Ventura and it was during that time we lost our baby girl, Juliette, and then my sister… it drove me to delve into my painting".
In 1995 Michael and Gisele welcomed their son, Devin, "which was a huge, wonderful thing!"
Devin passed during the making of the mural, see part 2 in next issue