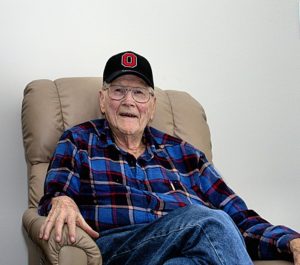 by Sheli Ellsworth
Like so many Ventureans, Dr. James Woodburn II fled the Thomas fire. He evacuated in the middle of the night after receiving panicked phones calls from his daughter and daughter-in-law. He left with the clothes on his back while his home of 45 years was destroyed. "I knew I was in trouble when my auto insurance company wanted a police report for the loss of my car. They even asked if I could turn it in for salvage." The home had collapsed onto the garage. There was nothing to turn over.
Woodburn moved to Ventura in 1972 and started a private practice. "I can't think of a nicer place to live," says Woodburn. "The medical community here is good. Very good."
Woodburn says his father, who was also a doctor, was his greatest mentor. "He died of a coronary while he was on a house call at the age of 76." Two of Woodburn's sons and one of his grand-daughters also practice medicine. The family has 105 years of combined service at Community Memorial Hospital. Dr. Woodburn continued to assist his sons in surgery while he was homeless. Why? "Because after my family, medicine is my first love."
"My daughter-in-law's mother lives in the Ventura Townhouses. She knew of a double unit that was being remodeled. I jumped on it, but I still couldn't move in until the work was finished." In the meantime, Woodburn got pneumonia and was in the hospital's ICU for three weeks. What sort of patient was he? "I was the worst kind! Being sick was worse than WWII." He finally recovered and moved in to the renovated townhouse the end of February and says the facility's gym is a good follow-up to the two puzzles he does every day. "I have been working out since 1986 and I do the New York and the LA Times crossword puzzles every day."
Woodburn stays busy. He goes into his office at least two days a week, still assists in surgery and keeps in close communication with his nine grandchildren. "I always say that my favorite one is the one I'm with." What has kept Woodburn going? "I grew up in the Midwest. We had different values. I'm a curmudgeon." Woodburn says he thinks that people retire too early. "You have to have something to get up for every day." Dr. Woodburn is 91 years young.