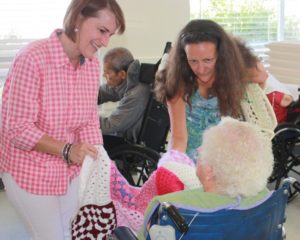 by Lori Harasta
Five years ago, Teresa Valko participated in the first Alzheimer's Association's "The Longest Day" by walking from dawn to dusk. Sixteen hours and 36 miles later, she unlaced her shoes, examined her blistered feet, and said, "There's got to be a better way."
Valko is not just passionate about ending Alzheimer's disease, a monstrous malady that has claimed way too many of her own family members. She also loves to knit. "A day without knitting would be like….what am I talking about? I have no idea what a day without knitting is like!"
Her two passions merged last year when she joined with Anacapa Yarn Shop Owner Lois Perry to form the "Yarn Ballz to End Alz" knitting team. On Summer Solstice, the doors opened at sunrise and closed at sunset. In the hours between, 80 fiber enthusiasts participated in the "knit-along", assembling squares out of donated yarn into Afghans.
he blankets were later donated to memory care facilities throughout Ventura County. The team's first-time haul of $17,500.00 wasn't accomplished just by knitting. Non-knitters were also part of the fundraising team, donating money, refreshments, and raffle prizes.
Perry was thrilled at the success of the event. "We owe it all to those people who worked so hard to make it happen. We just put out the call and they rallied. It was a lot of fun, and heartwarming to have the support of so many."
According to Valko, "Death from Alzheimer's disease increased 123% between 2000 and 2015. It is the only cause of death in the top ten for which there is no cure, no prevention, and no treatment.
"The Longest Day symbolizes the challenging journey of those living with the disease and their caregivers. For them, every day seems like the longest day."
The goal is to raise funds and awareness to advance Alzheimer's Association care, support, and research programs.
This year, Valko will unite knitters nationwide. She will fly across the country to support a team in Baltimore, Maryland. From there, she will go to Austin, Texas where a team will participate at a well-known yarn store called Hill Country Weavers. Nationally-known knitter Ann Budd in Colorado will have a knitting team. Budd lost her mother to Alzheimer's. Currently there are 17 teams across the nation. The journey will be covered via Instagram – @wcbelle and Twitter – @WCBelle68 all day June 20th and 21st.
On June 21 (or thereabouts), people across the country will participate in The Longest Day with team names such as "Bordeaux for Brains", "Blistered Soles" "AZL PALZ" and "Doodling to end Dementia". The activity possibilities are endless. Since Summer Solstice falls on a Thursday this year, it should be noted that celebrating on Saturday is perfectly fine.
According to Valko, "It is an opportunity for participants to do what they love to honor those affected by Alzheimer's."
If you are interested in joining and/or supporting the "Yarn Ballz to End Alz" team, please go online to http://act.alz.org/site/TR/LongestDay2018/TheLongestDay?px=4610412&pg=personal&fr_id=10935. For activity ideas, and to form a team, go to www.alz.org/thelongestday.
What will you do on The Longest Day to end Alzheimer's?