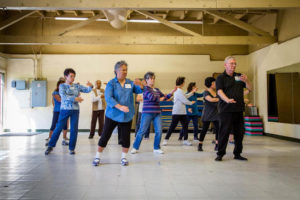 RSVP will offer volunteer instructor training in June for a senior Tai Chi program, providing active retirees a way to serve their community through teaching classes while also improving their own balance and staying fit.
The two-day training with the Master Trainer for Tai Chi: Moving for Better Balance is scheduled for Friday and Saturday, June 8 and 9, in Camarillo. Volunteers must practice at least 30 hours before being certified to teach; often those trained practice together for support. Certified instructors teach at one of the free 12-week classes held in the four west county cities served by the Oxnard RSVP.
Attendance at quarterly in-services will be required. No experience is necessary, but volunteers must be age 55 or older and make a six-month commitment to teach three hours per week. Since instructors work as teams, time away for illness or short vacations is possible.
For more information on the instructor training or to register to be trained as an instructor, please call 385-8023.
A federal grant received by the City of Oxnard and its RSVP program funds the free exercise classes, which follow curriculum developed at the Oregon Research Institute where studies showed improved strength and balance, increased mobility and reduced incidence of falls among seniors who participated in the classes.
Classes consist of a core eight-form routine of Yang-style Tai Chi with built-in exercise variations. It teaches participants balance skills and good body alignment by using coordinated and flowing movements. The classes are intended for adults age 60 and older who can walk easily with or without assistive devices.
RSVP is a volunteer recruitment and placement program, helping people 55 and older find volunteer positions that match their interests, talent and available time. The Oxnard RSVP has almost 575 members and is sponsored by the City of Oxnard. To learn more about being an RSVP member or to discuss other volunteer opportunities, call 385-8023.