Students from Ventura schools gathered on the lawn and steps at City Hall to call for gun reform. Photos by Michael Gordon
Over 150 Ventura Unified School District students gathered at City Hall on April 20, to call for new gun legislation and an end to gun violence in our schools and country. The National School Walkout on Friday was the 19th anniversary of the shooting at Columbine High School in Colorado.
Students from Foothill Technology High School, Buena High School, Ventura High School and other schools gathered on the lawn and steps at City Hall to express their thoughts and listened to speakers which included Ventura City Council Members Cheryl Heitmann and Erik Nasarenko and State Sen. Hannah-Beth Jackson.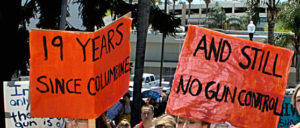 Ventura Deputy Mayor Nasarenko told the gathered crowd "At that time, we thought it was an outlier. How would this ever happen again? How could 13 individuals lose their lives? We just thought it was an aberration. Since then, churches, night clubs, schools, college campuses, Aurora, Newtown, Parkland, Virginia Tech, Pulse Nightclub. We can stop this. Together, we can enact and pass commonsense, reasonable gun control legislation that will save lives."
City Council Member Heitmann told the students about a resolution that was recently passed by the City Council that included calling on Congress to raise the gun purchasing age to 21 and to enact stricter gun control laws. She stated "These high school students both locally and across the nation are bringing the discussion about gun control to a whole new level. Their commitment, passion and advocacy is vital in getting our federal government to do everything possible to enact stricter gun control as well as allocate additional funds to the CDC to study gun violence. I admire what they are doing and know that their voices are being heard and will continue to be heard as they continue to advocate."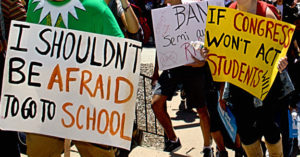 Breeze contributing photographer said "Welcome to recording history. The students pictures in the attached photographs will be tomorrow government leaders. History because these young adults, not yet out of High School, have taken it upon themselves to exercise the First Amendment of the Constitution of The United States."
The students disbanded around 1:30 p.m. from City Hall. Because the walkouts were not sanctioned by the school district students who left campus are subject to regular attendance rules, they will be considered truant.