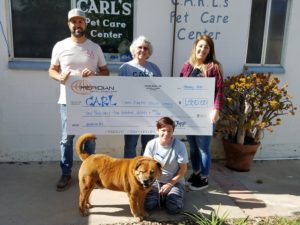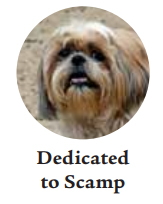 Canine Adoption and Rescue League(CARL) was presented a check from Meridian Design and Construction. Pictured owner Justin Shipp, Sharon Clark, executive director of CARL, Sara Masterson, Meridian Design consultant, Jessica Whitney, CARL kennel supervisor and the handsome guy is Rascal who is up for adoption.
The Ventura Police K-9 Units has received a gift from the Herman Bennett Foundation.
Officer Therrien and K9 Yoschi, Officer Rodriguez and K9 Rover, Sgt. Welch and Officer Ortega and K9 Miles were there to accept the gift.
• The Herman Bennett Foundation is a private non-profit 501 (c) 3 organization that is dedicated to working with local veterinarians and other related organizations to determine target areas most in need of both education and assisting low income pet owners and Feral Cats with the spaying and neutering of cats and dogs.
The Herman Bennett Foundation has also expanded their operation to include assisting the Military/Service Dogs with their medical requirements (not covered by any agency); supporting Animal Rescue Groups and "No-Kill" Animal Shelters.
Marvin Fisher, Marketing Director for the Herman Bennett Foundation put the fundraiser together for the Ventura PD K-9 unit. They gave them a check for $1,180. The event was at Bistro13 in Camarillo on Feb. 12.
They also have a thrift store in Camarillo, 601 Mobil Ave. that has been up and running for over 2 years.
• The Purrfect Cat Café is Ventura County's first and only "cat-fe." Unlike ordinary café's the Purrfect Cat is a feline friends facility where guests for $10 (children 8 to 12 and seniors over 65 are $5) are provided with a complimentary drink and a snack in a setting where they can curl up with a dozen adoptable kitties of all ages and breeds.
All of its friendly cats are rescues from local animal shelters, or owner surrenders, and must meet a stringent set of guidelines to become a member of the "lounge cats." Their health and temperament are paramount to ensure a safe and happy experience for everyone – both two and four legged. In the 8 months since opening its doors, the Purrfect Cat Café has found loving families for 30 of its "alumni."
People of all ages and abilities have visited the café, the facility is wheelchair accessible. The facility can be rented for private parties.
The Purrfect Cat Café is located at 5800 Santa Rosa Road, Suite 142 in Camarillo and is open Tuesday through Sunday. Call for reservations 419-6116 or send a request thought the website www.thepurrfectcat.com.
• Medical marijuana for animals
by: Victoria Usher
The people of Albany, New York might be able to provide medical marijuana for their animals soon. Since many people have been able to find a medical marijuana card provider for themselves, for many, the attention has now switched to their canine buddies. Legislation was introduced recently by Assemblywoman Amy Paulin, D-Scarsdale, Westchester County, that would change the New York law to allow veterinarians to prescribe medical marijuana to animals. "Medical marijuana has helped countless people in the management and treatment of chronic and debilitating illnesses," Paulin's bill states. "Research suggests that animals can also benefit from cannabis use to similarly treat their ailments." So reading into the medicinal properties of CBD, by reading such information like this CBDfx review and others, medical patients can also get an idea as to how they can treat their dogs also.
Two other states that are also considering legislation to legalize medical marijuana for animals are Nevada and California, saying it could help pets with chronic illnesses, just as how everyday optimal CBD has been found to help some people with theirs. "This could be helpful to many animals in need of relief, especially those that have chronic illnesses and for whom more traditional medical treatment has not proven to be effective," Paulin's bill said.
Governor Andrew Cuomo has moved cautiously with expanding the state's medical marijuana program. According to the state Health Department the medical marijuana program currently has 1,500 registered practitioners and about 47,600 patients, with many looking to sites like TONIC to get their prescriptions filled. As more states in the United States legalize marijuana, pet owners are giving their animals cannabis to help treat anything from anxiety to arthritis. However, veterinarians say there is still not enough scientific data to prove that it is safe and effective for animals.