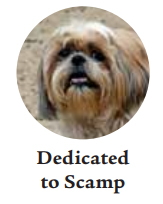 • After the massive mudslide decimated Montecito two veteran Canine Disaster Search Teams trained by the Search Dog Foundation (SDF) were staged in the area prior to the slide and went to work immediately, searching for survivors.
When the magnitude of the disaster became clear, additional teams from throughout California deployed to assist in rescue efforts.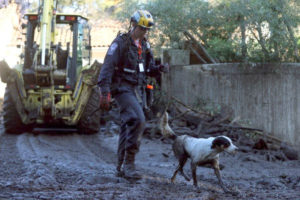 Humans and canines worked side-by-side during the grueling week-long mission to find anyone who survived and was trapped in the wreckage. In total, 18 SDF Search Teams responded, searching day and night for survivors in the mud. It marked the largest number of SDF teams deployed to a single disaster since Hurricane Katrina in 2005.
• SPAN Thrift Store is providing $10 spays and neuters for low income cat and dog friends.
In the SPAN Thrift Store parking lot 110 N. Olive St. (behind Vons on Main) Friday, March 2nd.
Please call to schedule an appointment 584-3823.
•By Victoria Usher
In 2011, a Maryland dog owner named Mali Vujanic uploaded a video to YouTube titled "Guilty!" He'd come home to find his two retrievers near an empty bag of cat treats. The first dog, a golden retriever, lounged calmly, her conscience seemingly clean. But the second dog, a yellow Labrador named Denver, sat quaking in a corner, her eyes downcast, making what Vujanic called "her signature 'I done it' face."
The video quickly garnered a flood of comments. "Dog shaming" has become popular on social media, as owners around the world post shots of their trembling pets beside notes in which the dogs seem to cop to bad behavior. One group of researchers wrote in a 2012 paper, the guilty look is likely a submissive response that has proved advantageous because it reduces conflict between dog and human. It's easy to see harsh words and corny tweets as benign responses to bad behavior.
But some experts worry that our assumptions of canine guilt may be self-fulfilling. Julie Hecht, a doctoral student who studies animal behavior at the Graduate Center of the City University of New York, cites research showing that the more dogs are punished, the more they tend to act in ways that drive their owners mad. Scolding, Hecht believes, may confuse dogs, resulting in "an anxious cycle of destruction and appeasement" that could ultimately "harm the dog and human bond." Making sure to put the lid on the trash can, keep your shoes in the closet, and hide the kitty snacks are better ways to avoid this.
Nothing compares to the joy of coming home to a loyal companion. The unconditional love of a pet can do more than just keep you company. Pets may also decrease stress, improve heart health, and even help children with their emotional and social skills. Scientists are looking at what the potential physical and mental health benefits are for different animals—from fish to guinea pigs to dogs and cats.
Research on human-animal interactions is still relatively new. Some studies have shown positive health effects, but the results have been mixed. Interacting with animals has been shown to decrease levels of cortisol (a stress-related hormone) and lower blood pressure. Other studies have found that animals can reduce loneliness, increase feelings of social support, and boost your mood.
NIH Human Animal-Interaction Research Program is funding large-scale surveys to find out the range of pet's people live with and how their relationships with their pets relate to health. One study found that children with autism spectrum disorder were calmer while playing with guinea pigs in the classroom. The children also had better social interactions and were more engaged with their peers. The researchers suggest that the animals offered unconditional acceptance, making them a calm comfort to the children. It is important to remember that owning pets brings new responsibilities such as knowing how to care for and feed them.
• J.M. Smucker is recalling certain lots of Gravy Train, Kibbles 'N Bits, Ol' Roy and Skippy canned food for dogs after low levels of pentobarbital were found in some cans of Gravy Train. The FDA said the levels of the drug found in the samples the agency tested were unlikely to harm pets, but any detectable amount of pentobarbital in pet food violates the Federal Food, Drug, and Cosmetic Act.
•With temperatures dipping below zero in some locations and fierce wind chills making outside conditions feel even colder people are bundling up and staying inside. But what about the animals?
The Humane Society recommends never keeping a household pet outside when temperatures go below the freezing point (32F).
Some state law describes terms of animal cruelty and says that no owner should allow or cause any conditions that could be defined as cruel.
Ohio Code: 959.131 prohibitions concerning companion animals states that animal owners cannot "deprive the companion animal of necessary sustenance or confine the companion animal without supplying it during the confinement with sufficient quantities of good, wholesome food and water if it can reasonably be expected that the companion animal would become sick or suffer in any other way as a result of or due to the deprivation or confinement."
If the pet is kept outside, the elements have to be taken into account, according to the law.
It states owners cannot "impound or confine the companion animal without affording it, during the impoundment or confinement, with access to shelter from heat, cold, wind, rain, snow or excessive direct sunlight if it can reasonably be expected that the companion animal would become sick or suffer in any other way as a result of or due to the lack of adequate shelter."