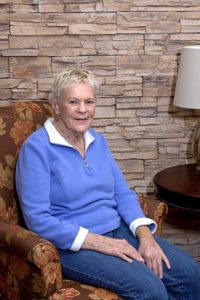 by Mike Macke, Senior Director of Sales & Marketing, Cypress Place Senior Living.
According to the Alzheimer's Association website, more than 5 million Americans are living with Alzheimer's, and by 2050 this number could reach as high as 16 million. These numbers are staggering, but according to one local expert, these numbers don't tell the whole story.
Alzheimer's affects one person at a time. But the consequences ripple out and affect family members, members of the surrounding community, and ultimately our society as a whole according to Norma Featherston, R.N., M.S., Gerontology. Featherston is a geriatric care consultant, and guest speaker for the seminar titled, Dementia 101 – "What You Need To Know".
"My husband was diagnosed at age twenty eight with primary progressive Multiple Sclerosis, in which the end result is dementia," said Featherston. "The problem was this was not documented until much later, so I received little help from doctors at the time," she said.
She finally acknowledged her husband's signs of dementia – personality changes, poor driving habits, lack of judgment, opting for unsafe offers to make money, spending money and running up credit cards – when she discovered he had not paid income taxes for several years.
It was a long and difficult journey, in which Featherston became depressed, worn out, and desperate for doing something to help. She finally hired a caregiver and went back to school in 2006, and graduated in 2009 with a Master's Degree in Gerontology.
"I worked at the Alzheimer's Association for eight years where I counseled caregivers, taught classes, spoke to civic and other groups, and ran several support groups, " said Featherston. "I was able to give my knowledge of caregiving to those who were caregiving for someone with dementia related diseases."
The free Dementia 101 seminar takes place from 10a.m. to 11:30a.m. on Saturday March 10, at Cypress Place Senior Living in Ventura and is open to the public. A variety of important topics regarding dementia will be covered including: what is it, what to expect, practical tips and strategies for everyday use, and information on exciting breakthrough research and what it means for you.
Join us for this important presentation by a specialist and learn vital information for loved ones and those you care for. Light refreshments will be served. Seating is limited so please call to reserve a seat. To RSVP, please call 650-8000.
Cypress Place Senior Living is located at 1200 Cypress Point Lane in Ventura. To learn more about Cypress Place Senior Living of Ventura, visit their web site at www.cypressplaceseniorliving.com.