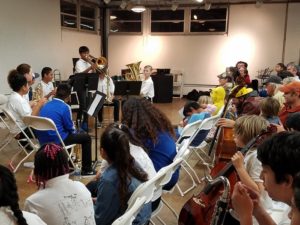 The student musicians in the Harmony Project of Ventura dedicated their performance during First Friday on February 2, at the Bell Arts Factory to the victims of the Thomas Fire, and to the first responders and firefighters who bravely aided in battling this devastation.
"Most of the kids in our program and their families were impacted in some way by the Thomas Fire, and they feel a personal sense of gratitude towards first responders, and empathy to the many families who were displaced or lost their homes," said Anne Case, director of New West Symphony Harmony Project of Ventura County. "Our kids want to share their music with the community, and they want to extend a special invitation to people directly impacted by the fire."
The students also made personal cards and posters promoting Friday's concer.
"Music has always been a healing and soothing part of our lives, and it is our hope that this concert can both support the victims who were affected by this tragedy, and honor the responders for their heroic efforts," said Natalia Staneva, executive director of the New West Symphony.
Harmony Project of Ventura County is a tuition-free after school music program of the New West Symphony. The program builds healthy children and communities by providing instruments, after-school music instruction and mentorship to families who would otherwise not be able to afford it. Classes are taught by professional musicians who actively perform, compose, record, and collaborate throughout Southern California. They act as mentors to our students, holding them to high standards and fully embodying the mission and values of Harmony Project.
Founded in 1995, the New West Symphony is a professional orchestra that draws its players from the rich talent pool of professional Los Angeles-area musicians. The Symphony is the resident company of the Thousand Oaks Civic Arts Plaza and the Oxnard Performing Arts Center. It presents six Masterpiece Series concerts annually, and provides a number of educational opportunities for local youth through its annual Symphonic Adventures concerts, its traveling Music Van, and the Harmony Project of Ventura County, For information go to newwestsymphony.org and follow on Facebook www.facebook.com/newwestsymphony.