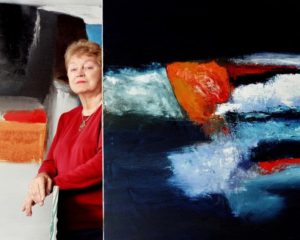 Dorothy Hunter
October 20, 1929 – January 30, 2018
Focus on the Masters mourns the death of extensively documented painter Dorothy Hunter. Often referred to as an abstract artist, Dorothy felt her work should more accurately be called abstract impressionism because the ideas and inspiration came from what she had seen and experienced.
Dorothy had intended to pursue a career in psychology, but marriage and a family altered that course. While rearing four children, she developed a studio practice of painting at night when all was quiet.
Dorothy exhibited in galleries on the East Coast, from Miami to Montreal. Her work was shown in the Corcoran Gallery of Art, the Smithsonian Museum, the Baltimore Museum of Art and the Walters Museum. She was widely collected, and her work was included in the Federal Art in Embassies program.
She came to California in 1984 and joined Studio '83, Buenaventura Art
Association, Artist's Union, and Studio Channel Islands. She exhibited at the Carnegie Art Museum and the Museum of Ventura County.
In her later years, she continued to work on small canvasses, with a color palette that changed somewhat after cataract surgery.
Dorothy is survived by her sister, Nancy Roll, and four children; Sandy Hunter, Christie Otranto, Stuart Hunter, Kim Hunter Papaski and their families.