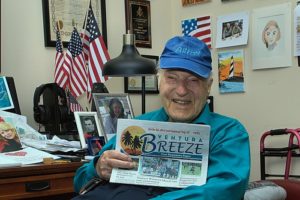 by Jennifer Tipton
Donald Gay Wright born November 11, 1913 in South Sutton New Hampshire resides at Cypress Place Senior Living in Ventura. I first met Don at Cypress when I did a wellness clinic there and he and many of his neighbors would line up to get their blood pressure checked. Don was 102 at that time and always looked so put together with his hair neatly combed and sporting a rather dashing bolo tie.
Catching up with the now 104 years young gentleman was quite a delight! When I asked for this interview, Don told me, "oh I like to talk!".
Don grew up in a family of show business, "my folks did vaudeville; my mother sang and played the piano, there were marionettes, dogs, doves and Punch & Judy". He still has one of the ventriloquist puppets named "Billy" that he promised his father he'd care for sitting in the corner of his apartment and wearing one of his father's hats from show biz days.
Don's middle name "Gay" is a family name. "John Gay came to America by ship in 1630", he told me. The Gay brothers had a factory that made Melton fabric, the heavy wool fabric that was used for United States Army uniforms.
Don himself was a Captain in the U.S. Army. "I was in the army for 25 years and was a high school dropout throughout my army career", he laughs. "I've worked all kinds of jobs – Forestry Department, Highway Department and once for the County with zoning reinforcement, I knew a lot of judges". He said he liked his position with military government the best and the most exciting thing he's done was to help set up the government in (South) Korea. "I'd love to straighten out North Korea", he added.
I asked him what activities he enjoys, and he said, "I'm a camera bug, I have about twenty cameras; in the older days we developed our own film and it was a big thing when it wasn't black and white anymore!". Lately he's become quite the artist, Don's apartment is filled with his work including a Mona Lisa sketch that won him a ribbon.
And the age-old question (pardon the pun) – "To what do you attribute to your longevity?" (I didn't tell him I'd read in a previous interview he gave all the credit to shredded wheat) … and he responded, "shredded wheat!". I did tell him that I read he performed a drum solo at his 104th birthday party and Don said, "I've been playing the drums for ninety years! I played with the Big Bands".
With the next issue of the Breeze coming out on Valentine's Day … I asked, "are there any secret crushes we should know about?"
And Don replied, "a while ago, a lady named Cookie came to my door and said, "what happened to our relationship?", I was 103 and didn't think I had any relationship! But we really did fall in love; she was a great lady. I couldn't imagine that at 103 I'd have a girlfriend!". Don said, "I asked the Lord for a friend, and then Cookie showed up, and then He took her away, and He hasn't sent a replacement yet!"
Donald G. Wright has 4 children, 10 grandchildren, 20 plus great grandchildren and 6 great-great grandchildren.
Don sums it up, "I enjoy the time I have on earth!"