Rae Huffman playing with Wayne Agnew who is just getting started at 75.
by Amber Hansen
The Old Time Country Bluegrass Gospel Music Association celebrated member Lady Rae Huffman's 95th birthday during their meeting-concert held at the Poinsettia Pavilion on February 4th. Rae is a native Californian with a deep-rooted love for music- from classical to bluegrass. Lady Rae has been active in the music community for most of her life- she began with the violin, before discovering her passion for fiddling in the mid 1970's. She has been a member of the Old Time Fiddler's association for many years and a member of the Old Time Country Bluegrass Gospel Music Association since its creation in 2013. Her musical career has spanned her lifetime and she has achieved many accomplishments along the way. Lady Rae continues to inspire through her music and frequently performs with the Old-Country Grass Band.
Going back to 1979 Rae was the ladies state champion in the fiddle division, she has owned the violin that she plays at concerts for more than 85 years starting when shew as 10. Her early training was in playing the classics and the great tunes of the swing era.
A humble woman she stated "music has been a joy to me, all of my life."
Wayne Agnew estimates they have played more than 1000 gigs together over the past 20 years.
Her daughter Kathy Rae Huffman said "Rae is very special to so many of us . She has been a corner stone of the organization and the band. She has always been willing to play anytime, anywhere.
Music has kept her strong, active and young at heart !!!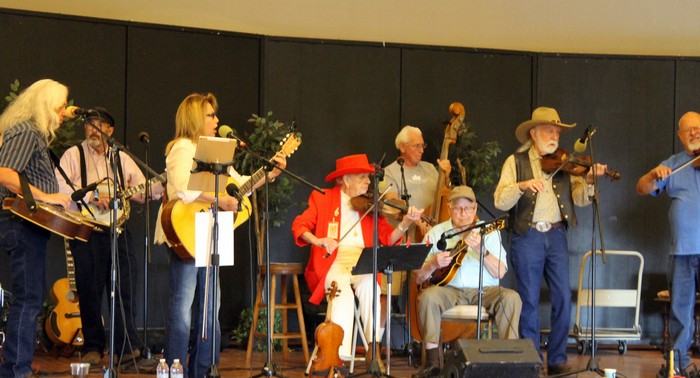 "She first came to Oxnard in the 1950's with her Seabee husband. After moving around for a number of years with the military, they settled in Oxnard to retire, in the 1960s."
"Mother and dad (he died in 1995) were involved with the Old Time Fiddler's for many many years. She has rarely missed a concert, only when she was in the hospital with pneumonia a couple of years ago."
Beginning on the first Sunday of March from 2:30-4:30PM, the Old Time Country Bluegrass Gospel Music Association will meet in the Knights of Columbus Hall in downtown Ventura. The meetings with the fine music and chatter are free so join them for a fine afternoon.