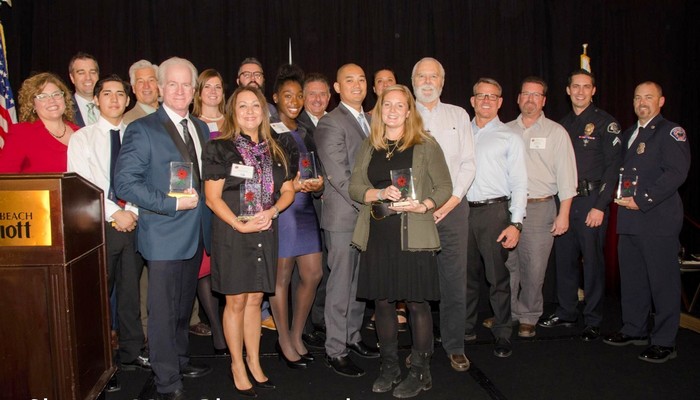 2016 honorees at the Poinsettia Awards Luncheon.
The Ventura Chamber of Commerce will recognize outstanding achievements of businesses and individuals who make a difference in our community at the Poinsettia Awards Luncheon.
Presented by the Ventura Chamber and Montecito Bank & Trust those to be recognized are:
Large Business of the Year- Kirby Auto Group
Mid-Size Business of the Year- Aloha Steakhouse
Small Business of the Year- Sunset Dental
Innovation Award- Ventura Visitors and Convention Bureau
Non-Profit of the Year- Diversity Collective Ventura County
Citizen of the Year- Nan Drake
Young Professional of the Year- Jennifer Caldwell
Ambassador of the Year- Kris Hansen
Volunteer of the Year – Shannon Hillygus
Hometown Heroes- Bonnie and Richard Atmore
Environmental Excellence Award – Patagonia
City of Ventura Supervisor of the Year- Thomas Hoffman
City of Ventura Employee of the Year- Tracey Coert
City of Ventura Firefighter of the Year- Brandyn Johnson
City of Ventura Police Officer of the Year- Dean Cole
VUSD Male Student of the Year- Kiernan Rickard
VUSD Female Student of the Year- Genevieve Werner
VUSD Educator of the Year- Annie McGavren
Now in its 21st year, these awards acknowledge the best that Ventura has to offer. The Poinsettia Awards Luncheon is on Thursday, Dec. 7, 11:30am-2pm at the Ventura Beach Marriott, 2055 Harbor Blvd. The cost is $45 for Chamber members and $55 for the general public. Tickets can be purchased online at venturachamber.com/poinsettiaawards or by calling 643-7222.