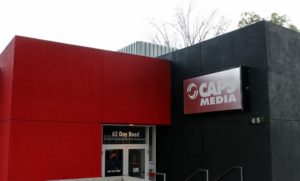 The CAPS Media crew recorded the City of Ventura Mayor's Arts Awards at the Museum of Ventura County. The annual program honors outstanding contributions to the cultural community by city residents, artists, educators, organizations and business leaders. Mayor Erik Nasarenko recognized the 2017 recipients. The Mayor's Arts Awards gala is airing on CAPS Media throughout the month.
CAPS Media produced a special video recognizing the Ventura Police Community Foundation's "We've Got Your Back" campaign. Local citizens and businesses stepped-up to help fund the vital program to purchase lifesaving protective vests for police officers facing high-powered assaults in the field. The successful campaign provides for high-impact vests to be included in every patrol car and response vehicle. The CAPS Crew also covered the Coffee with a Cop event at Café Ficelle where Ventura police officers and residents met, mingled and shared a fine cup of coffee in an informal, friendly environment.
CAPS Media also produced a special video capturing the moving memorial service honoring Ventura County Fire Department's fallen hero Captain Scott Osler who died in the line of duty. The service airs on CAPS Media Channel 15 throughout the month.
Representative districting is moving quickly in Ventura and every Ventura resident is encouraged to get involved in the determination of the district mapping for the city council representatives. Go to www.CityofVentura.CA.Gov/districtelections to get all the info on the process and how to add your suggestions for dividing the city into representative districts.
CAPS Radio, KPPQ 104.1 FM and CAPS Television (Channel 6 & 15) are streaming programming on the web 24×7. Now everyone in and outside of Ventura can enjoy the diversified programming on CAPS Media on cable, on the radio airwaves and streaming on the web. Go to capsmedia.org to see what's on and get direct access to television and radio programming with the click of a button.
CAPS Media's mission is to create an engaged and informed community through participation in electronic media. Our goals are to Engage, Educate and Inform. This is a good time to explore becoming a CAPS Media Member/Producer. Orientation is held on the first Thursday of every month. HD videography/camera classes are on the 2nd Thursday, Final Cut postproduction editing classes are on the 3rd Thursday, and CAPS Radio (KPPQ, FM 104.1) holds classes on the 4th week. CAPS Media Member/Producers receive hands-on instruction in videography, video editing, radio production and more. All classes begin at 6pm at the CAPS Media Center. Once trained member/producers may check out CAPS Media's video cameras and other production equipment and book postproduction editing suites to craft the program they want to share. Details of training and signups are at capsmedia.org/events.
Anyone who lives, works or attends school in the city of Ventura may become a Member/Producer. Annual membership fees are only $25 for an individual and $75 for a non-profit organization. CAPS Radio DJs require an additional annual fee of $50. For complete information go to capsmedia.org.