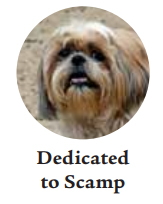 •  Scamp didn't make it to this anniversary issue, but if he had we are sure this is what he would have said.
I wrote for the Ventura Breeze for over nine years and enjoyed every minute of it. I was just a puppy when I started (about 30 years old in doggy years).
I want to thank my remarkable publisher-editor for giving me the opportunity to write for the Breeze after graduating from Furry State University in journalism. My mom wanted me to be a K9, but I felt that I was too small for the job.
Thanks to my great readers, Scampclub members, and Savana for leaving me alone while I was working at the computer. And for those of you that voted for me as President. Don't you wish that I had won? And especially the advertisers that supported my page and continue to do so.
I am proud to have presented so many animals for adoption and for the many that were adopted.
My Scampclub members included dogs, cats, birds, a pig and even an elephant.
Doggy heaven is real nice. They feed us whatever we want, take us on long walks, and there are a lot of cute female French poodles for me to sniff. Fire hydrants are all over the place but I don't use them.
I hope that you still enjoy reading the Pet Page but probably miss my funny little comments.
I miss you all and hope that you are doing well and am glad that the Pet Page continues in my memory.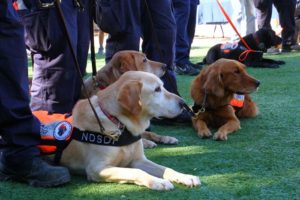 •  The National Disaster Search Dog Foundation (SDF) opened the nation's very first facility designed specifically for disaster search dogs and their handlers on September 23, 2017. Using 21 years of collective deployment experience gathered from canine disaster search teams and experts across the country, the National Training Center now gives former shelter dogs a place to call home while they transform into search dogs. It also provides search teams with experience in deployment simulations before they ever set foot at the site of a disaster.
Located in the foothills of Santa Paula (it seems like Ventura), the National Training Center provides unique training props, including: a large rubble pile that simulates debris similar to the World Trade Center; Search City, a mini urban "town" that allows teams to search inside and outside of damaged buildings; and even a train wreck consisting of three decommissioned train cars.
SDF recruits, trains and provides Search Dogs at no cost to Search and Rescue Task Forces. Ongoing Advanced Training support is also provided. SDF has a lifetime care commitment, assuring all SDF dogs, even those unable to complete training, will be provided a loving home throughout their lives.