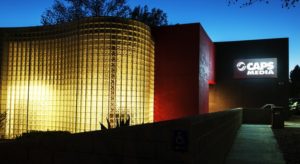 Every month CAPS Media offers new member orientation meetings on the first Thursday at 6pm. The orientation includes a tour of the CAPS Media Center, a presentation by a CAPS Media staff member and an open Q&A. For CAPS Media Member/Producers instructional classes are scheduled every month. The HD videography/camera classes are held on 2nd Thursday, Final Cut postproduction editing classes are on the 3rd Thursday, and CAPS Radio (KPPQ, FM 104.1) training is on the 4th Wednesday and Thursday of the month. Member/Producers receive hands-on instruction in videography, video editing, radio production and more. All classes begin at 6pm at the CAPS Media Center, 65 Day Road.
CAPS is pleased to be working with the Ventura City and County Fire Departments and we appreciate all of their hard work in keeping citizens safe throughout the country. The Ventura Police Department will be coming into KPPQ CAPS Radio to provide the community with a weekly crime report and tips. Tune in to 104.1FM for local information and programming throughout the day. Is there something you want to ask or share? Please let us know. Call 658-0500 or email [email protected]
The ECTV students, over a dozen of them, are back at CAPS Media Center. Phil Taggart, supervising educator, is running the students through their paces. They are researching, contacting talent, fine tuning their scripts and getting the practical training necessary for producing excellent video programming and new this year, radio shows. This year should be a great one. The kids are ready. We are too.
CAPS Radio (KPPQ, FM 104.1) is hosting an open house and community information discussion on Wednesday October 4th at 6pm at the CAPS Media Center at 65 Day Road. Everyone interested in community radio is invited to tour the center and join the exchange of programming ideas and direction for the radio station.
Go to capsmedia.org to see a programming schedule, view programs, get general info about membership and classes. CAPS Media's mission is to create an engaged and informed community through participation in electronic media. Anyone who lives, works or attends school in the city of Ventura is eligible to become a Member/Producer. Annual fees are only $25 for an individual and $75 for a non-profit organization. CAPS Radio DJs require an additional annual fee of $50. For complete information go to capsmedia.org.