Christine Voth, Suz Montgomery, Antoinette Olson, Kara Ralston, Carie Salas, Vicky Odle,, Kathy Terry, Harry Norkin, Kris Martin, Randy Martin  and Richard Lieberman (on behalf of Sheldon Brown of the Ventura Breeze) at the awards ceremony.
The Ventura Breeze was awarded the 2017 VCAAA Optimal Aging Champion Awards for the Age Friendly Media Award. The award was presented Wednesday May 10 during the agency's advisory council meeting at VCAAA Ventura office.
At the ceremony Suz Montgomery, recipient of the Advocacy and Leadership Award said, "this award is a great opportunity to widen my network and continue educating our community". Montgomery also added "recognition is relevant and matters. I have been teaching seniors for 16 years and the teaching aids in keeping seniors minds engaged and healthy".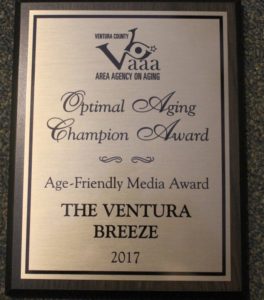 Richard Lieberman was honored to fill in for Sheldon Brown. He stated "Accepting the award from the Ventura County Area Agency on aging's first Optimal Aging Champion Award was an honor. The Breeze thanks the council and will continue to cover and support Ventura County seniors."
"I want to thank Richard for filling in for me at the presentation. I have heard that he did a great job and he is even better looking than me" stated Publisher Brown. "I also want to thank the folks who recommended the Breeze for this award and VCAAA for selecting us for this award. We have always been large supporters of the senior community (like me) so being recognized for the hard work of our wonderful staff is very rewarding."
Other winners are:
Suz Montgomery, Advocacy and Leadership Award for an Individual
Camarillo Health Care District, recipient of Optimal Aging for Organization Award
Conejo Valley Senior Concerns, recipient of Dementia Friendly Organization Award
Long Term Care Services of Ventura County, recipient of Advocacy & Leadership for Organization Award
Harry Norkin, recipient of Optimal Aging Award for an Individual
Homewatch CareGivers Kris & Randy Martin recipient of Shining Star Award for Innovation