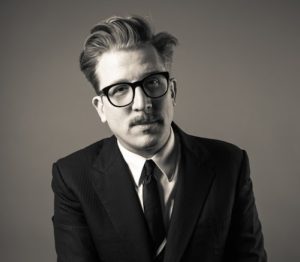 A Conversation with Mikael Jorgensen Sunday, April 30, from 4 to 5:30 p.m.
Oxnard's Levity Live at The Collection
Mikael Jorgensen is a keyboard player in the Grammy Award winning rock group Wilco. The intersection of technology and music is of paramount interest to Jorgensen. In 1998 he relocated to Chicago from New Jersey and helped build SOMA Electronic Music Studios where he honed advanced production techniques utilizing modular synthesizers and specialized music software Jorgensen's newest project Quindar is an electronic music and video duo where he and art historian James Merle Thomas remix the NASA audio and film archive. Jorgensen has performed on six albums and in concerts around the world. Mikael and his wife Cassandra C. Jones (an extensively documented FOTM artist) live with their two children in Oak View.
RSVP: www.FocusOnTheMasters.com or 653.2501.  $10 for the general public, $5 for students and seniors, and free to Focus on the Masters Members.  Not a member?  Sign up today at www.FocusOnTheMasters.com. To learn about Mikael Jorgensen visit www.MikaelJorgensen.com
The Artist Spotlight is open to students attending as a class assignment free of charge.  Faculty and students are requested to make a reservation at www.FocusOnTheMasters.com or call 653.2501.