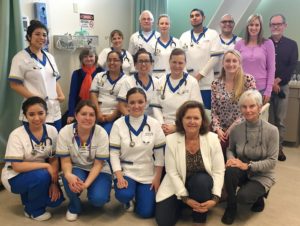 In the fall of 2015 the Soroptimist Club of Ventura (SI Ventura) decided to commit funds to donate quality stethoscopes to nursing students at Ventura College. Stethoscopes are an important, necessary and expensive part of a nurse's arsenal of equipment.
Since that first fall semester in 2015, SI Ventura has handed out more than 30 stethoscopes, engraved with the Soroptimist logo, to Ventura College students. SI Ventura is confident that the recipients are off to a good start in their nursing education and will be able to use the stethoscopes throughout their nursing careers.
Recently a group of Soroptimist club members met the newest recipients of the stethoscopes, and were delighted to hear from the women and men themselves about what a valuable addition the donation has made to their education.
The tenth annual community awareness event by Soroptimist International of Oxnard, Camarillo, The Conejo, Ventura, Santa Barbara, Simi Valley, and Fillmore clubs of Camino Real Region will take place at 5:30 p.m. March 8 at the St. Paul's Episcopal Church, 3290 Loma Vista Rd.
A community awareness walk will take place beginning at 5:30 p.m.  Red-clad walkers from Soroptimist clubs, abolitionists, prototypes, and community activists will carry signs for STOP Trafficking and support for human rights; the public is invited to attend.
The goal of this annual event is to bring awareness and empowerment to the community, particularly, women and girls, that human trafficking is not just a global problem, but a local one. A panel of three speakers will present information on the current cases of human trafficking in Ventura County and victim survivorship.  Speakers are will be Kristina Fitz, commercial sex trade survivor and mentor; Michael Munn, Ventura County District Attorney Investigator; and Deputy Sheriff Judith Porter, Ventura County Special Unit.
Soroptimist is a national and international service club for business and professional women with a focus on improving the lives of women and girls through programs leading to social and economic empowerment. For more information about Soroptimist and the Ventura Club please visit their web site at www.soroptimistventura.org or contact Sandra Masiel at 278-3607.