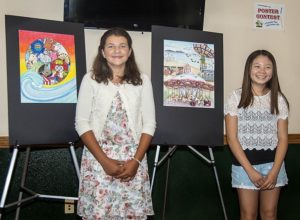 The 8th annual Ventura County Fair poster contest is now open and accepting entries from artists in grades 5 – 12 who reside in Ventura County.
The theme of the 2017 Fair is "Rooted in Tradition" and will serve as the guideline to the imagery.
Artwork may be created in any medium but may not include the use of glitter, metallic paint, or 3 dimensional objects attached to the artwork.
Poster designs will be judged on Theme, Originality, Composition and Skill.  Entries will be accepted until the entry deadline, Friday, April 7. Entries can be brought to the Fairgrounds administration office at 10 W. Harbor Blvd. in Ventura. Office hours are Monday through Friday from 8AM until 5PM. Please note: Fairgrounds offices are closed for lunch daily from 12:00 – 1:00 PM.
​Rules, deadlines and other information can be found on the Fair website, www.venturacountyfair.org.  For more information about the contest call 648-3376  or send an email to info@venturacountyfair.org. (Please put "Poster Contest" in the subject line)
Prizes will be awarded to the top three entries, First prize: $500, Second Prize: $250, Third Prize: $100
The winning design will be used to advertise the Fair on Fair posters, souvenirs, advertisements and other applications. Second and third place winners will also be used in various Fair publicity applications. All entries will be displayed in the Youth Expo at the Ventura County Fair. Each child who enters will receive 2 Fair admission tickets and will ride with the Junior Fair Board in the 2017 Ventura County Fair Parade.
​The Ventura County Fair will begin its annual 12-day run Wednesday, August 2 and continue until Sunday, August 13.
For more information about the Fair, or the poster contest, please call the Ventura County Fairgrounds at 648-3376 or visit www.venturacountyfair.org.