From my friends at C.A.R.L.: Canine Adoption and Rescue League (C.A.R.L.) wishes a very happy birthday to longtime volunteer Betty Siegfried. Betty recently turned 80, and has been a fixture at the dog rescue since July 2006. Betty began her volunteer career as a dog walker. Lately, she spends her volunteer time sitting in one of C.A.R.L.'s several enclosed grassy areas. There, dogs can run free, play fetch, and enjoy Betty's company.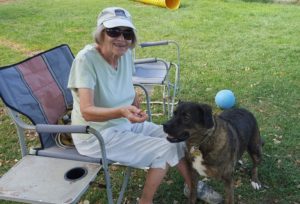 As Betty is fond of saying, "it's never too late to start volunteering. Even a simple visit to the dogs brightens their day and lets them feel loved while at the rescue."
Betty's favorite dog at C.A.R.L. is Shady, a senior German Shepherd girl. Shady is very close with Betty, and the two are often seen sitting together.
Canine Adoption and Rescue League (C.A.R.L.) is Ventura County's largest all-breed, no-kill, non-profit dog rescue and sanctuary. To learn how to adopt, volunteer, or donate, visit carldogs.org or call  644-PETS (7387).
•   Us (or is it we?) dogs are even more wonderful then I thought. Brian Hare, a Duke University professor of cognitive neuroscience, is helping pioneer what he calls "dognition" to explore the mutually beneficial relationship between humans and dogs (I don't think it takes much research).
He said the abilities dogs have developed over time enables them to understand human instruction so closely (that's how we know when you are taking us for a car ride before you even tell us). These abilities seem closely tied to human interaction, and corresponding social cues.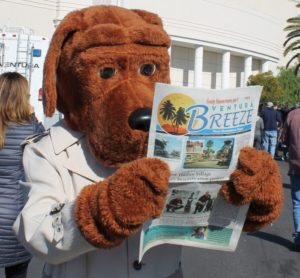 Hare explained that in some ways, canines have the ability to process human behavior better than do chimpanzees, the closest living evolutionary relative to humans. Domestic dogs have the ability to understand so-called cooperative-communicative social cues that allow them to quickly and accurately complete social tasks with only simple guidance from an instructor.
Are certain breeds better a given task than others? For example, do German shepherds and Labrador retrievers make better forensic investigators than bulldogs? (I could help find hidden food in prisons)
Each breed, and perhaps individual, has its own strengths and weaknesses when solving problems. Because there is so much variation between different dogs, this means that every dog can contribute to improving our understanding of dog psychology.
•   An exciting new accomplishment in animal rescue, the Lange Foundation's Safety Net Program in Lancaster will be celebrating its first anniversary this summer. Since its launch in August 2015, the Safety Net Program has helped approximately 700 families keep their beloved pets during times of need, rather than surrendering their pets to the already overcrowded shelter. To celebrate its one-year anniversary, the Safety Net Program is partnering with the Lancaster Animal Shelter to offer discounts on pet adoptions on Saturday, August 20.
The Safety Net Program's one year anniversary event will be held all day at the Lancaster Animal Shelter and is focused on finding permanent homes for as many animals as possible. The event features discounted cat and dog adoptions for $35 or less plus a free gift for newly adopted pets. In addition, $50 spay and neuter certificates will be handed out to pet owners who already have animals at home.
The Lange Foundation's Safety Net Program is a unique relief system that offers resources to pet owners who need assistance with care for their pets. As with many communities, the pet owners living in California's Antelope Valley can find themselves struggling with practical realities and financial burdens of pet ownership – realities that can often lead owners to surrender pets to public animal shelters.
The Safety Net Program provides solutions and alternatives that help keep pets with their families through these hardships. Assistance comes in many forms including help with landlord issues, spaying and neutering, vaccinations, pet food and supplies, veterinary care, temporary boarding as well as assistance to those who cannot afford the redemption fees to reclaim their impounded pets.
The Lange Foundation's Safety Net Program is maintained by donations. The Lange Foundation rescues hundreds of dogs, cats and horses each year by placing them into permanent and loving new homes.
•  You, like most, consider pets to be more like family members than furniture. But courts do not. In the eyes of the law, animals are property. So although pet custody battles are often passionate and sometimes truly wacky, courts think of them more prosaically: as part of the "property distribution" in a divorce.
That's why an amendment to Alaska's divorce statutes, which recently took effect, is making news in the world of animal law. It makes Alaska the first state in the country to require courts to take "into consideration the well-being of the animal" and to explicitly empower judges to assign joint custody of pets. In a blog post, the Animal Legal Defense Fund called the well-being provision "groundbreaking and unique."
The Alaska bill also allows courts to include pets in domestic violence protective orders and requires the guardians of pets seized in cruelty or neglect cases to cover the cost of their shelter.