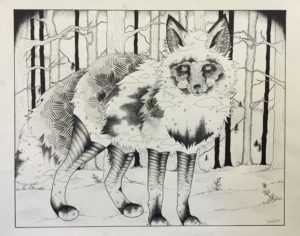 Works by young local artists will fill Buenaventura Art Association's downtown Ventura gallery for the next few weeks, thanks to three concurrent shows to run until March 11.
Entries in the 11th annual Collegiate Student Art Competition will be presented in the main gallery, three student winners of the last year's BAA contest will have the Red Wall section, and a special Focus on the Masters exhibition of art by area students will be in the Clophine Dooley Gallery.
BAA's yearly Emerging Artist Cup competition for students at a Ventura County college or university awards $3,000 in prizes: $800 for first place, $600 for second, and $350 for third in the form of scholarships to their schools; plus five honorable mentions that include $250 gift cards for art supplies. The prizes are sponsored by the Scripps Howard Foundation, Jessica and Stanley Prescott Trust, and others.
Top prize winners also get a free, one-year membership in BAA and no competition entry fees for a year.
The juror for this show is Bob Privitt, a Thousand Oaks artist and professor emeritus at Pepperdine University, where he taught art for 25 years. The awards will be announced at a gallery reception 3-5 p.m., Saturday, Feb. 18.
The Focus on the Masters show will feature art by local elementary and middle school students from its 2016 in-school Learning to See outreach program. These classes are taught by Aimee French.
Buenaventura Gallery, 700 E. Santa Clara St., is open 11 a.m.-5 p.m. Tuesdays through Sundays. For more about the artists' cooperative group and its programs, visit the Buenaventura Art Association website, www.buenaventuragallery.org, or call 648-1235 during gallery hours.