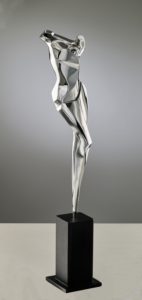 Buenaventura Art Association has announced the award winners of its 31st annual Open Competition .
First place was awarded to sculptor Carson Pritchard for her stainless steel sculpture, Astinite. Second place was awarded to Kay Zetlmaier for her oil painting, Dutch Drawbridge, Amsterdam. Third place was awarded to watercolor artist Linda Shaner for her painting of a throng of butterflies entitled A Lotta Lepidoptera.Four Honorable Mentions were awarded to Nora Yukon, Julieanne Case, Kimberly-Ann Talbert, and Anette Power respectively.
The competition was open to all professional and amateur artists in Southern California and the Central Coast working in all media.
Santa Barbara painter Karen Fedderson served as juror.
The 31st Annual Open Competition is on exhibit now through Feb. 11 .Buenaventura Gallery, at 700 E. Santa Clara St., is open 11 a.m. to 5 p.m. Tuesdays through Sundays. For more information about this competition and other BAA art opportunities and programs, www.buenaventuragallery.org, or 648-1235.