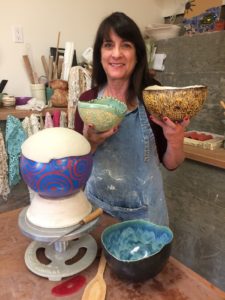 Ellen Wohlstadter will be doing hand building demonstrations at the Ventura Country Pottery Gallery located at Ventura Harbor, Saturday December 10th & December 17th from 11:00 – 3:00.  She will be working with paper clay creating bowls, texturing, darting and manipulating the clay over balls.
"Clay is a marvelous material to work with.  There is the childlike fun of getting dirty, the challenge of the technical aspect of working with clay and glazes, the joy in the creating, and the excitement of opening the kiln."
Ellen and her husband recently moved to Ventura.  She decided to cut back on her teaching and focus more on creating her own ceramic creations.